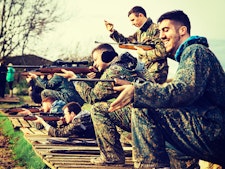 Kalashnikov and Mixed Arsenal Shooting Experience Incl. Return Transfers
In this amazing package we've put together for you, all your shooting dreams are answered. You get four different guns with a total of 55 bullets to fire at targets, with full instruction, safety briefing and equipment. Starting with a Kalashnikov, the most commonly used assault rifle in the world. As soon as it's in your hands you'll feel the excitement grow. As you squeeze the trigger and you hear the crack as the bullet shoots into the target and the gun jerks you'll be lost in the pure thrill that discharging a high power weapon gives you. You'll also realize hitting a target where you want to takes concentration and skill. Don't worry, you've got another nine tries.
Next is 15 shots with a Glock handgun. Favoured by special forces the world over and highly accurate and easy to control at close quarters. Now it's the Uzi sub machine gun when its on fully automatic, all of your 20 shots will be gone in one short burst. You'll be lucky if you get one or two shots on target. Who cares, "wow" did that feel incredible or what? Last but not least is the pump-action shotgun. Ad you pump the barrel and let off the first round you'll feel the kick and see the big hole ripped out if the target. This is an absolutely thrilling one to two hours of macho fun at its very best. You'll have an instructor to coach and guide you every step of the way, as well as return transfers and a guide.