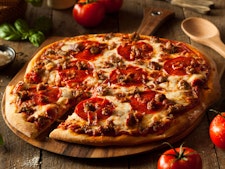 Two Course Pizza Express Meal Including Drink
Get an authentic slice of Italian dining in the heart of Blackpool with this pizzeria experience. Especially before a big night out it makes sense to line the stomach a little (trust us, you'll be thanking us the next morning) – and why settle for anything less than a properly delicious dinner? So we'll set you and the lads up with a dinner reservation at Pizza Express in Blackpool.
You'll be tucking into two courses of authentic Italian cooking. Starters include the fresh garlic breads and unmissable Pizza Express classic, the dough balls. For your mains you have a choice of seasonal salads, fresh pastas and of course the pizzas. Using proper ingredients and authentic recipes, these handmade pizzas are full of all the rich flavours of Italy in every bite. And all of these delicious eats are washed down with a selection of complimentary drinks ranging from Italian beers through to hand selected wines.
And once you're through with your dinner? All of this iconic seaside towns nightlife is seconds away, ready for you to begin a memorable stag night experience.
Menu items may vary