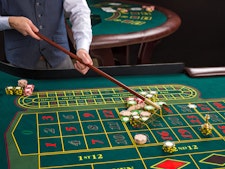 Casino Entry
Whether you've been a high roller for years or are a total pigeon, this city-centre casino in Brighton has seen it all. Just opposite the Palace Pier, this popular spot comes alive in the evenings, surrounded by pubs and within a five minute walk of West Street and the promenade clubs. Whether it's been a busy day of activities or you're just getting started, a jaunt to the casino is a great way of guaranteeing you can all come together. As a big group, you're going to need to book in advance to secure your spot and make sure the door staff are expecting you. Luckily, these guys are used to big numbers so you'll be well looked after.
So let's add some harmless tension to the usual drinking scenarios on a Brighton stag weekend! As soon as you arrive, the swish surroundings and click of chips will get you in the mood for some serious gaming. Hit the tables to play blackjack, roulette and poker, with plenty of modern slot machines if you're feeling the pressure. Hopefully someone's going to hit a winning streak so you can all blast the rewards, but if you're all down to the felt, at least you can rib the stag again for being a loser.
If it's a pre-lash experience you're after, arrive early evening and enjoy some dinner. There's a bar and restaurant on site, so you can keep the beers flowing and refuel with some simple grill fare. With full racks of ribs and chargrilled half-chickens on the menu, it's going to be a hearty feed. Snacks can be purchased in the bar too, when you're after something light like a toasted ciabatta. If the chips get you down, kick back and watch Sky Sports in the entertainment lounge whilst you reassess your tactics for the next game.
Menu items may vary