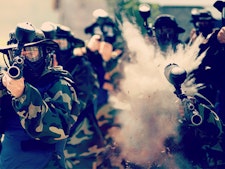 Full Day Paintballing inc 100 Paintballs
Paintballing is an absolute stag do classic and there's a reason for that. It always guarantees that you and your lads are gonna have a few hours of fun. But with this experience, at one of the best facilities in the UK you'll be enjoying an entire day session that's packed with action. The venue is notable for its range of different battle zones, many of which look like they're straight out of the movies – which to a certain extent they are because these are Hollywood props. The variety of props and sets doesn't just give you more to hide behind, it also adds to the authenticity of your event and makes each game that little bit more realistic.
This is everything that paintball has to offer at the highest level. It's not just running around the wood firing pellets at your pals, you'll be able to get fully immersed in six different themed game zones. At the Apocalypse Bunker it's the end of the world and the stakes couldn't be higher and you'll need to work tactically as a team. There's a Viet Cont Village scenario that's straight out of Platoon and sees you attacking the village and working from hut to hut and guard tower to guard tower as you do your best Rambo impression. In Tomb Raider you'll need your wits about you to enter the pyramid and avoids its traps to recover the sacred amulet.
Our favourite game zone, Enemy at the Gates is the ultimate in emulsion warfare. Featuring three tanks, as well as a range of bridges and even bunkers you'll keep fighting off the opposition as they try to flood your positions. It's nail-biting stuff that gets the adrenaline pumping!
To get you started, this package also includes 100 paintballs. So feel free to go as Rambo as you like. With so many paintballs available and more to purchase, you're never in risk of coming face to face with the stag, only to hear that pant-filling 'click' because you've run dry!
Men and guns are always a classic combo to bring out the inner warrior. There's nothing quite like catching the groom-to-be with a solid hit! It's a fantastic day out for all the boys, after which you can compare bruises and war stories - preferably over a pint.
Game zones subject to change