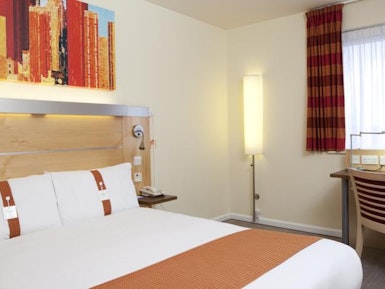 2 Nights Stay In Available Accommodation
If you want a no-frills hotel at a great rate, the Holiday Inn Express is a good option. It's set on the waterfront, just over two miles east of the centre. You can stroll into town through the streets of Cambridge, hop on a bus (20 minute journey), or drive / take a cab in 10 minutes. This modern, budget hotel is designed to give you all the things you need, and none of the things you don't, bringing it in at a price that leaves you more cash to splash on your epic stag do. Each room is en-suite with a power shower and features a 32-inch flat screen TV with Freeview channels and free WiFi.
The on-site restaurant offers simple, tasty dishes including classic fish and chips and juicy burgers. There is a lounge bar that's open until midnight, so you can raise a glass to the man of the hour before you hit the town. The breakfast buffet serves up hot and continental food, with items including cereals, pastries, scrambled eggs, sausages and hash browns. If you're coming by car, don't worry about parking – it's free.