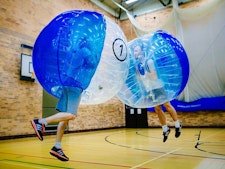 Bubble Football
If you've chosen to head to Scotland, then you'll be onto a winner with Glasgow – it's a lively and buzzing city that's literally chock a block full of awesome things that you and the stag pack can get stuck into, and there's plenty of brilliant bars, pubs and clubs that will see you through the last weekend of freedom.
Although drinking and partying play a large role of the stag do, we say it's always a good idea to spend some sober man time together, and enjoy that all important male bonding and of course get you all buzzing for that big night out that you've got planned. And what better way to do this than with a session of bubble football?
Bubble football is always an excellent option for a stag do – it's great fun, and we know you'll love it. But if you've never had the chance to have a go at bubble football, then let us tell you a bit more about this epic game. It's football, but not as we know it. As a player, your main piece of kit is a body zorb – a clear inflatable bubble that you wear on your top half, with handgrips to hold on to. Yours legs are free to run and there is a hole for air. The game will have you in stitches as you bounce into each other to try and get possession of the ball. If you are knocked off your feet, you can bounce right back up.
While you're kitted out in such a ridiculous fashion, your friendly host can lead you through other daft games – some of which don't even involve a ball (who needs a ball?). Try Last Man Standing and Zorb Bulldog. Your host will keep things moving and make sure you have fun and get the best out of the session.