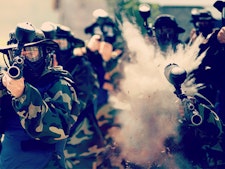 Full Day Paintballing inc 100 Paintballs
Step into another world as you load up your guns and take to the forest for a mad day of battle adventures and manoeuvres. Set just south of Leeds, this sprawling site has welcoming staff, state-of-the art gear and movie-set quality game zones.
You can get immersed in the play in eight different environments, such as Tomb Raider where you have to gain access to a pyramid to retrieve a sacred amulet. In the eerie Haunted Graveyard you use graveyards as cover. Keep a low profile in Mad Murphy's Jungle Attack as you try to rescue a downed allied airman. As battle-hardened mercenaries you'll aim to gain control of a heavily guarded fuel depot in Chemical Alley. London Apolcalypse is set around a red double decker bus – you have to put your life on the line to protect the US president until reinforcements arrive. Sieze control of an abandoned Viet Cong Village, while avoid the enemy, are hiding in their home terrain. Command Post is set in the seemingly deserted hills of Afghanistan. And have a go at storming Castle Wallenberg, an enormous two-story Bavarian fortress with a dark history.
This paintball centre is the proud owner of an 80' long Russian rocket (on an original Cold War era Soviet launch vehicle), which is a base camp focal point for group photos. You'll get your first 100 paintballs included, and there's so much potential for shooting action, you'll want to get more, plus maybe some smoke bombs for that apocalyptic atmosphere! Get down and dirty diving in ditches and coming up to spray the enemy with paintballs. It takes skill and tactics to complete the objectives and win the tasks. Over six and a half hours you'll get a chance to fire paintballs at hour mates – listen out for the 'yelp' of a direct hit. Total satisfaction!

Game zones subject to change