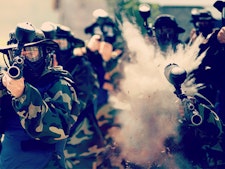 Half Day Paintballing incl 100 Paintballs
This is an exhilarating and action-packed experience, running around like madmen in a shoot-'em-up special! There is nothing like firing a gun, especially at your mate just before he gets married, so let him have it with as many paintballs as you can!
The first 100 paintballs are included, to get you started. You'll be supplied with all the protective clothing and equipment that you need by the friendly and professional hosts who will make sure you all have an exciting, bonding, adrenaline-fuelled day to be remembered.
The site itself is impressive, set in dense woodland it features six immersive movie-set quality game zones which will have you totally lose yourself to the experience as you run, dive, navigate and fire through epic scenes. The London Apocalypse feautures iconic red London double-decker buses to dominate, whilst the Castle Wallenberg sees an imposing two-storey castle hidden deep in the forest and your nerves will be tested in Dawn of the Dead.
Make sure you don't miss your shot (pun intended) to get this booked into your Newcastle stag weekend!