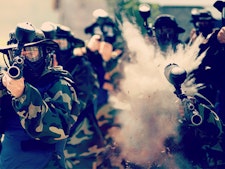 Full Day Paintballing inc 100 Paintballs
Go for a full day of paintballing and get the full stag classic experience. You and your lads will arrive in the morning and work through plenty tins of Dulux as you get one of the best paintballing experiences around before finishing up ready in the afternoon, ready for a less painty but equally messy (in a totally different way) evening. This Nottingham facility is one of the Midlands premier venues. Across your day you'll get to go through seven different scenarios, all of which are uniquely themed and blend seamlessly into your secluded woodland backdrop. You'll get your first hundred paintballs free to get you started – so feel free to go trigger happy from the get go, you can also purchase more throughout your day and even pick up smoke bombs to add to your tactical manoeuvres.
The game zones are really what sets this venue and paintballing experience apart from other times you've gone on paintball. The zones feature tons of movie-set quality props that provide more than just something to hide behind, they add to the raw authenticity of your day. Tomb Raider offers you a landscape of mummy statues and pyramids as you step into something straight out of Raiders of the Lost Ark. Another zone is the Viet Cong Village which sees you battling from hut to hut under heavy watch-tower suppression, it's only by doing your best Rambo impression that you'll escape unscathed. And Counter Strike is one of our favourite scenarios, you'll need your commander's hat on to strategise how best to defend your bunkers while still storming enemy positions – those smoke bombs come in handy! Each game has a different objective which creates a fun atmosphere that challenges you as well as giving you a top excuse to give the stag a few bruises. Later, at the end of the day you'll be able to compare war wounds and trade battle stories of your day spent diving through ditches, crawling through the undergrowth and playing toy soldiers.
Maybe it's that playing toy soldiers that makes paintballing so popular, a way to get in touch with our inner child. That sounds a little bit philosophical for us, all we know is that paintballing has always been one of the quintessential stag do activities. And there's no reason for you and the lads to miss out on this classic on your Nottingham stag do, especially when there's a venue and experience as good as this one.
Game zones subject to change