Local information
Average pint cost: £3.50 - £5.00
Weekend from: £169
Great for:
Weekend was smashing! Stag company was brilliant right from the first enquiry to going on the stag itself, I would thoroughly recommend them to anyone who is wishing to organise a stag party!!
- Scott Grant
We take the pressure off you
London is one of the most historic cities in the world. But England's fast paced capital still has its finger firmly on the pulse – and with traditional pubs and smart bars, along with a pioneering clubbing scene, you will be spoilt for stag do ideas!
Recommended activities in London
Build your own stag weekend
Let our experts take the hassle away!
Get a quote now!
View Packages
London stag weekend packages
View Accommodation
London Accommodation Examples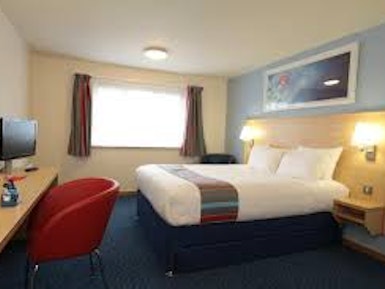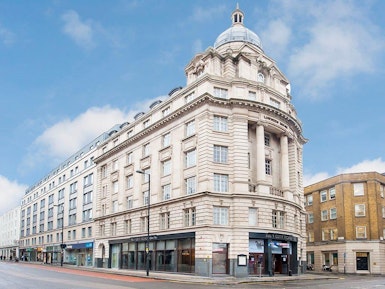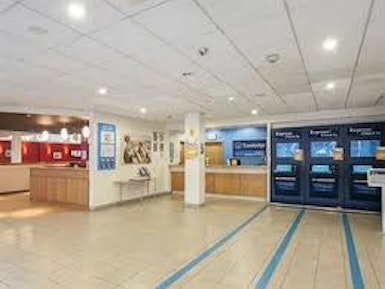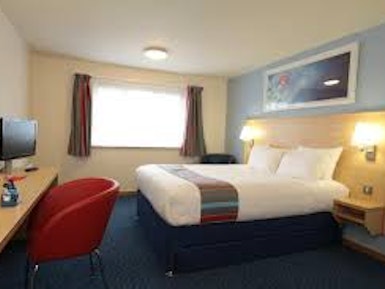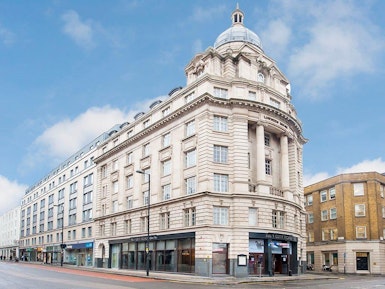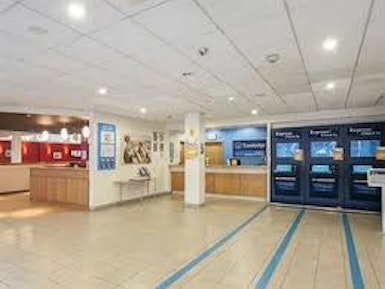 ---
Important information
Check in time
15:00
Check out time
12:00
Parking facilities
No onsite parking. Nearby pay parking at Great Eastern Street car park, EC2A 3ER and NCP Finsbury Square, EC2A 1AD
Disabled Facilities
yes
Travelodge London Central City Road
Overview
If you want your stag HQ to be in the heart of London's nightlife quarter, this is the one for you! Set in a historic building right by Old Street station, the Travelodge London Central City Road is right in the middle of the action, with cool bars and clubs of Shoreditch just a 15-minute walk away. From here you can also hit Brick Lane for an authentic curry or pick up some music or clothes in the market.
London never sleeps and neither does this Travelodge! The bar is open 24 hours for guests and you can buy hot snacks around the clock. There's a Bar Café that sells tasty, great value meals from 5pm until 10pm. The hotel is well connected by bus and tube, putting some of the capital's best attractions in very easy reach. St Paul's Cathedral and Tower Bridge are both under two miles away, and the wider city is just a tube ride away. The Travelodge London Central City Road offers cleanliness, comfort and 24-hour service, with the rooms featuring its fresh new look and Dreamer beds.
Facilities
The Travelodge London Central City Road is a budget hotel with 374 rooms sleeping up to three adults. Each comes with an en suite bathroom with shower and complimentary toiletries. Every room has a TV and WiFi connectivity, which is free for the first 30 minutes and charged after. The hotel includes a Bar Café, which serves dinner until 10pm every day and breakfast until 11am on weekends. The bar is open 24 hour for guests. Reception is open around the clock and the staff are friendly and happy to help. The rooms include tea and coffee making facilities and snacks can be bought at reception or from vending machines.
At a glance
cafe/restaurant
staffed reception
tv
wifi
towels
toiletries
other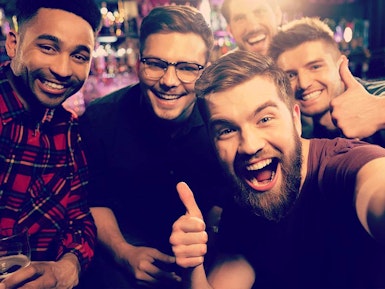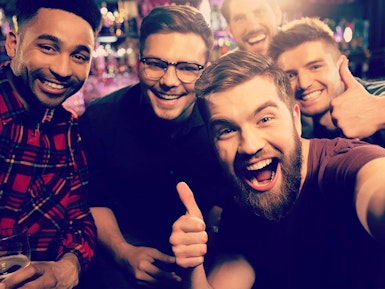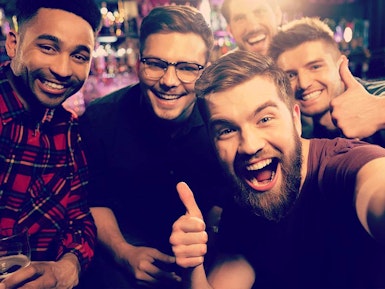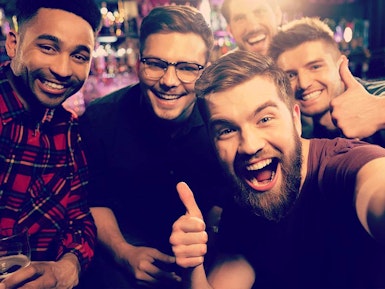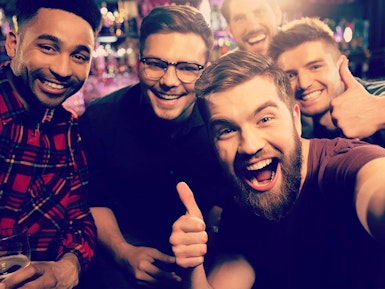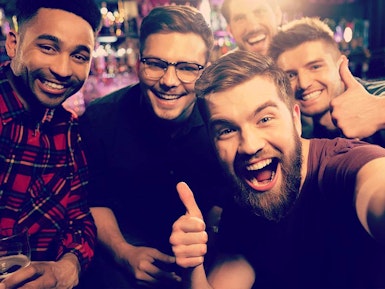 ---
Important information
Check in time
14:00
Check out time
12:00
Breakfast times
Cooked and continental breakfast served 6.30am - 10.30am weekdays, 7am - 11am weekends
Parking facilities
Charged onsite parking
Disabled Facilities
yes
Thistle City Barbican
Overview
Stay right in the heart of the action at the Thistle City Barbican. This swish hotel in London City is at the gateway to the trendy East End and vibrant bar and club life of Hoxton Square. As a guest, enjoy free access to their Otium Health & Leisure Club, which includes a swimming pool, gym, sun bed, steam room, sauna and hot tub. Old Street underground station is a ten-minute walk away and if you fancy heading West, Leicester Square is only 30-mins by Tube.
With a couple of bars onsite – not to mention room service – there's no excuse not to get a round in before and after your stag activities. With spacious rooms and flat screen TVs to boot, the hotel makes for the perfect place to either kick back with the guys, or get ready to go out and enjoy this area's bounty of nightlife. After sweating it out in the sauna the next morning, you'll welcome the breakfast menu at the 120 Central Brasserie downstairs. For all the amenities and an enviable location for culture and partying, the Barbican Thistle really ticks all the boxes.
Facilities
Thistle City Barbican is a large hotel with 463 rooms sleeping up to three guests. Each room has an en-suite shower / bath and WC, flat screen LCD Freeview TV, toiletries and tea/coffee making facilities. There is health and leisure club with a gym, swimming pool, sauna/steam room, spa, and a range of bookable beauty treatments. The hotel is centrally heated and smoking's not allowed. Air-conditioned rooms are available. Breakfast, lunch, dinner and snacks are served in the restaurant until 10pm. Snacks and drinks can be purchased from room service at any time. Hairdryers, irons and a safe are all in-room, and luggage can be stored in a secure room. WiFi is free. Some charged parking is available onsite, with additional public parking close by.
At a glance
pool
steam room
gym
treatment rooms
cafe/restaurant
bar
tv
iron
hairdryer
safe
wifi
tea/coffee making facilities
towels
toiletries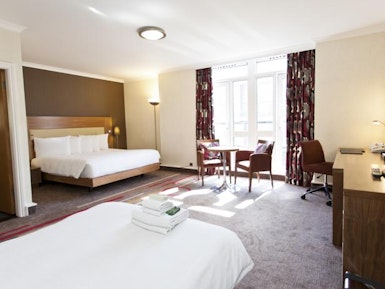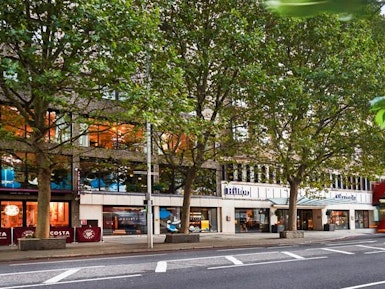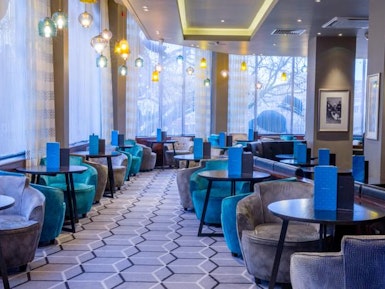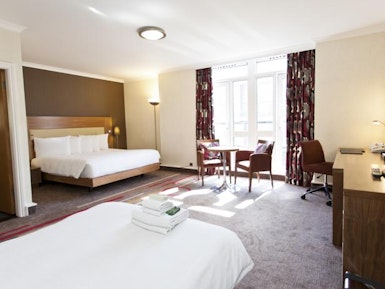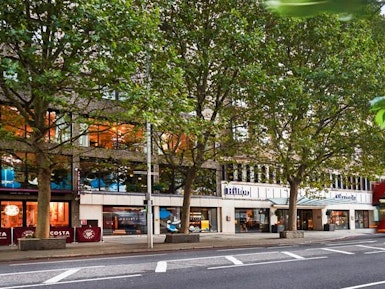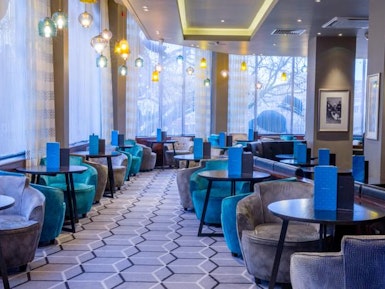 ---
Important information
Check in time
15:00
Check out time
12:00
Breakfast times
Full English breakfast buffet served 6:30am - 10:30am weekdays and 6:30am - 11am weekends
Parking facilities
Charged Parking onsite (Parking prices are subject to change)
Disabled Facilities
yes
Hilton London Olympia
Overview
Take a slice of high-flying London life at the Hilton Olympia, a swanky hotel on Kensington High Street. This lively area has loads of bars, bakeries and restaurants so you're in for a foodie treat. If you fancy a kick about, Holland Park is a half-mile north. Kensington Olympia underground station is only a three-minute walk away to connect you with the rest of the city, including Soho just a 30-minute journey on the Tube. Plenty of naturally lit lounge space in the hotel and a Costa Coffee means there's space to chill out between activities.
Look forward to quality beds and modern bathrooms, with flat screen TVs and high-speed WiFi available in every room. Greet the lads in the Society Bar downstairs and purchase a drink and some posh burgers with baked camembert. The Society Restaurant is a solid choice too, when you want to treat the stag, serving up some epic British classics and steaks from the grill for an additional cost. If it all gets too much, head to the fitness room and sweat it out, ready for the next night.
Facilities
Hilton London Olympia is a large four-star hotel with 405 rooms, sleeping up to three guests. Each room has an en-suite shower / bath and WC, Freeview TV, mini bar, toiletries and tea/coffee making facilities. There is a gym for guests to use. The hotel is centrally heated and smoking's not allowed. Meals and refreshments are served in the restaurant, bar and cafe. Snacks and drinks can be purchased at the shop or from room service. Hairdryers and irons are included in the rooms, and a safe for storing valuables can be found at reception. WiFi is charged at £12.99 per day. Luggage can be stored in a secure room on check-in or check-out days. Charged parking is available onsite.
At a glance
gym
cafe/restaurant
bar
shop
staffed reception
tv
room service
fridge/mini bar
iron
hairdryer
wifi
tea/coffee making facilities
towels
toiletries
other
View Guide
London Stag do guide
So, you're toying with the idea of a stag do in London? We don't blame you one bit, because trust us; it'll be the night of your life! In this vibrant, fast-paced and never sleeping city, you're only ever a tube stop away from some of the most sought-after bars, clubs and restaurants in the world - and therefore a whole lot of hazy memories.
Complete with a huge range of stag activities and attractions such as the super-stylish Shoreditch, the madness of Camden, the high end vibes of Chealsea... London rolls all of Britain's best bits into one wild stag weekend. Just make sure you pick the best bits by booking with us beforehand!
Great if you are looking for
Classic pubs and cutting-edge bars
World famous sights
Indoor go-karting, bar crawls, medieval banquets and VIP nightclub entry
Getting around
Unless it's by foot or the tube, we don't recommend it. Mainly because the tube will get you everywhere and taxis are more expensive than they should be in London. So save yourself a pretty penny and grab yourself a one day travel card if you're not a London resident. Also, download the Citymapper App for your phone to help you navigate the city. You don't want to be wandering around lost and wasting valuable drinking time after all! If you are a London resident, then get an Oyster card and make sure you top that baby up before the big day. That way you don't have to worry about doing it on the day.
Tips and ideas
As with most places, it's best to go during the summer time because London seems to bloom with new and exciting pop-ups and new ways to enjoy alcohol al fresco. If you do manage to go in the summer then make sure you head to the Real Food Market at Southbank Centre Square for some incredible street food to line the stomach with. There are also booze based pop-ups to enjoy like Flamingo Pier on Hackney Wick which sees a tropical themed party floating on a pontoon. Remember though, these are pop-ups and aren't static party places. Good on one hand, bad on another but definitely serves a nice surprise.
If you go later on in the year then it's best to try and avoid the cold and the wet by doing a good old Pub Crawl. There a lot of a different options and you can do your own, book a guided one through us (*hint hint*) or make it really weird by combining in it with something like split team treasure hunt. That way you get to see the city as well as visit a few prominent pubs along the way!
Nightlife
When you're out in London it's best to think about which area you want to party in because even though everything is conveniently connected by the tube, getting from one side of the river to another can be time consuming, which in turn takes up valuable time where you could be consuming alcohol!
Tiger Tiger Haymarket is a popular spot for all our stags, as it welcomes big groups and it's got four brilliant dance rooms for you to enjoy, Opal bar, Cloud lounge, Groovy Wonderland and White Room. Plus, if you fancy something to eat then they also serve some cracking food (just ask one of our party planners about our two course meal offer with them.) If lounging is more your thing though, then you're going to love the Piccadilly Institute which you can find (funny enough) on Piccadilly. More of a late night bar than a club, this place has 6 eclectic themed rooms, each with its own cocktail menu for you to explore. It's also a place to do some serious babe spotting. Speaking of babes, you'll find plenty of them at Platinum Lace strip club which is well loved amongst our stag customers (for reason we're sure we don't have to explain!)