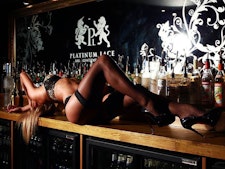 Saturday Night Lap Dancing Entry
When you've had your fill of daytime action and done the pubs and bars, there's only one place you'll want to be: a lap-dancing club. Leave it to us. Don't wait 'til the last minute and risk getting the knockback or ending up at your second choice. We've done the research, got the connections and will sort your entry into a classy venue that brings you the best in adult entertainment.
This high-class establishment is set in the heart of Brighton's nightlife area, and just a stone's throw from the pier. Here you'll find beautiful dancers highly trained in the art of sensual striptease and pole dancing. Set over two floors, the atmosphere is relaxed and welcoming, so you can kick back and enjoy the night and all the entertainment on offer. Gaze at the erotic stage shows as you enjoy a drink with the boys. The performances run all night for your viewing pleasure. And of course, if you want a feast for your eyes only, you can always opt for a private lap dance by one of the seductive ladies.
Live large by night in the opulent surroundings of this classy lap-dancing club. With tables, private booths, and a VIP lounge, you can take it to whatever you want to. There's full waitress service, so no queuing at the bar. This is a place to come and be well looked after, leaving the stresses of everyday life far behind. With a late licence until five in the morning, this place is still going when the rest of the clubs have stopped. All you have to do is show up before midnight and wear a shirt with a collar to meet the dress code. Once inside it's a playground of erotic entertainment that's a treat for your whole stag team Go on, enjoy yourselves!