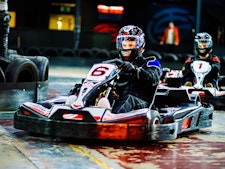 Indoor Go-Karting - Ultimate Race
Go-karting fans will definitely want to have a go at Bristol's freshly refurbished track. The 800m indoor course is set over two levels, making your laps a whole load more exhilarating and challenging at the same time. When you book this experience you'll be taking part in a Le Mans-style, non-stop race to determine the winning teams.
This course has been designed with maximum adrenaline rush in mind. It's multi-level motoring mayhem, with stomach-lurching flyovers, epic straights, where you can really pick up speed, and mind-bending corners and hairpins that will really put your driving skills to the test! Who needs Monaco or Silverstone when you can all make like Lewis Hamilton or Sebastian Vettel for the day at this high-octane go-kart session?
We'll provide the overalls, helmets and a qualified instructor – you just show up ready to burn some rubber. Then it will be visors flipped down, engines revved up, and it's time to sort for the men from the boys! Everyone gets at least 25 minutes behind the wheel – plenty of time to show the boys who's king of the road! This is a real battle of nerves, wit and skill, to become the winner and take your place on the podium. Whoever wins gets serious bragging rights for the whole Bristol stag do!
It's an open session so even if you're booked for a small group then there may be other adult groups racing out on the track with you. When the lights go green you'll enter the track fully adrenalised for your first session, the aim of the game is to get as many laps in as possible and set the fastest lap. When time is up and the chequered flag is flown, all karters will return to the pits for a short rest break where you can pick up your personalised electronically timed lap print out to compare your times against the others. Feel free to grab some tips and tricks from our trackside team before you head out again.