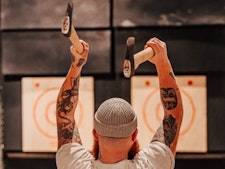 Urban Axe Throwing - Big Shot Package
The humble axe has been used as one of man's tools since the stone age and for the last 1.5 million years has been used to shape, split and cut wood, as a weapon and for all other manner of things... and now, to lob senslessly in the name of having a laugh with your mates! Axe yourself, is there really a better way to spend a couple of hours on your Bristol stag weekend?
You'll have your own dedicated host on the day who will demonstrate how to safely and successfuly throw the axes, the experience is designed for complete beginners so don't worry, they'll give you all the tips and get you out your shells and slinging like a boss in no time!
You'll get stuck into a tournament and compete against eachother to be crowned the ultimate axe-thrower, with a champions T-shirt to take home as evidence. During your visit you'll be taught some sick trick shots to get some awesome, insta-worthy photos and you'll also have two drinks each included to wet your whistles.
Don't miss your shot - give this a go!