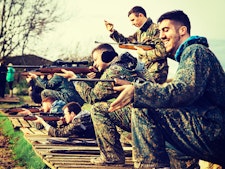 Shooting AK and Shotgun Experience Incl. Return Transfers
A trip out of the beautiful split city of Budapest, firing the Kalashnikov AK-47s, Remington shotgun and Ruger pistol. Men and men's toys – it doesn't get much better than this. You may have been relaxing in one of the many public steam, swim and sauna pools Budapest is famous for but blowing big holes in things with live ammo is a far more exciting way of letting off steam. You'll be picked up from your accommodation in a private bus and taken 30 minutes out of the city center to the shooting range, where you'll be given a safety briefing by your instructor who will also guide you in how to shoot each weapon to the best of your capabilities. As you will soon learn, it's not as easy as you see on TV. But there is nothing like the excitement of firing real guns and in this package you get 20 shots from three different weapons.
Start off with the Ruger pistol – this is the weapon you will see all German officers using in any Second World War film and is a great pistol to fire. It's accurate at short range, so once you get used to firing a couple of shots you should hit target every time. Next up is the most commonly used assault rifle in the world the Kalashnikov AK-47 built to last easy to use, this is a design classic and the ultimate baddies' gun. You'll feel the buzz and excitement as soon as it's in your hands, and you'll be itching to pull the trigger. When you do, watch as your target shreds.
Next up, the Remington shotgun – this is a completely different firing experience to the Ruger and AK-47. The Remington kicks when you pull the trigger and rips massive holes in anything you fire it at. It's great fun to shoot as it just causes devastation to the target. You'll all be given a free beer then it's back in the bus to head back to the city. The whole shooting experience only takes an hour and a half but you'll be telling people about this for years to come.