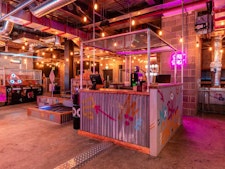 Boom Battle Bar - Pool & Ping Pong
Attention Stag groups ready to paint Cardiff red with unforgettable celebrations! Look no further than our ultimate Stag package at Boom Bar, designed to kickstart your evening with a blast. Get ready to immerse yourselves in excitement, friendly competition, and endless laughter.
Dive into an hour of thrilling Pool action, showcasing your cue skills and challenging your mates to epic showdowns. Sink those balls with finesse and claim victory as the reigning Stag group champions.
Next up, engage in an hour of fast-paced Ping Pong, where lightning-quick reflexes and precision shots will be the keys to triumph. Let the adrenaline flow as you and your friends battle it out, creating unforgettable moments that will be cherished for years to come.
To keep the festivities going strong, we're including a generous £100 bar tab. Explore Boom Bar's extensive menu and quench your thirst with an array of delightful drinks, ensuring your Stag group stays fueled for an unforgettable night.
So gather your Stag crew and prepare for an evening of laughter, friendly competition, and celebration at Boom Bar in vibrant Cardiff. Let the games begin and let the good times roll!