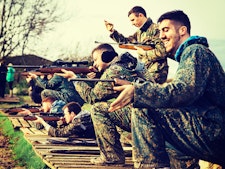 Shooting package Rambo
Get ready for the ultimate adrenaline-pumping experience in Prague with the electrifying "Shooting Package Rambo"! With a knowledgeable guide leading the way, you'll be locked and loaded for and ready to battle it out to be the top Marksmen!
First up, embrace the power of a Kalashnikov assault rifle, firing off 10 rounds of pure excitement. Channel your inner action hero with 10 bullets from the legendary Glock 17. If that's not enough, the AR-15 offers an additional burst of 10 bullets, making you feel like a true marksman.
But the thrills don't stop there! Experience the rush of firing a pump-action shotgun with 5 rounds of pure intensity. And if you still crave more, select any other weapon for an additional 10 bullets of chaos!
To keep your energy up, enjoy complimentary water, coffee, or tea throughout the experience.
So, assemble your crew and get ready for a day of heart-pounding excitement with the "Shooting Package Rambo" in Prague. It's a Stag do you'll be talking about for years to come!