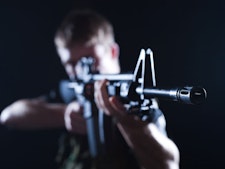 AK-47 Shooting Experience (Twenty Bullets) incl Return Transfers
It's time to take your Prague stag do up a level with this shooting experience that blows the other stuff out of the water. It's not every day that you get to wield the legendary AK-47, but this is not your everyday stag do. We'll arrange for a guide to come and take you to a shooting range where you can get to grips with this assault rifle design classic and fire off twenty shots, decimating the target. There will be a professional instructor there to provide you with safety equipment and any assistance you may need.
The AK-47 was developed in the Soviet Union by Mikhail Kalashnikov, who started work on it towards the end of World War II. He has a lot to answer for, as it has become the most commonly used assault rifle in the world, due to it's reliability under harsh conditions, low production costs, availability in virtually every geographic region and ease of use. First used by Soviet forces in 1949, the AK-47 and its derivatives are now used by the armed forces of more than 80 countries, and by freelancers in many more. From resistance groups, to revolutionaries, organized crime syndicates and terrorist organisations, this is the go-to gun of choice.
No-one knows how many are in circulation: 100m is a reasonable guess. As a proportion of all the guns in the world Kalashnikovs probably make up more than one in ten of all firearms. The gun has simple controls, and generous clearance between its moving parts – which means it's not particularly accurate, but it's unlikely to jam, no matter how clogged it gets with sand or mud. It's easy to operate, even by untrained recruits, so even if you've never fired a gun before, you can get to grips with this one. Hear the distinctive crack of AK-47 gunfire as you spray the target with bullets!