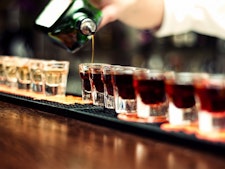 Munich Booze Night
If you like to think of yourself as a real machine with a 'go hard or go home' mentality, then this might be the activity for you. It's a night of revelry and debauchery that's sure to test the stamina of your stag party. It's a great way to see all that Munich has to offer in one night, and it's certain to be one of the more eventful evenings on your stag – even if your head isn't thanking you the next morning.
Things kick off with a pub crawl, this lasts five hours and sees you and the lads taking in the infamous Munich nightlife. It's a great way to get introduced to all the best nightlife in Munich. To help the good times get on their way you'll also enjoy a welcome shot in the first venue, it sets the tone for the rest of your night.
After your crawl you'll stop off to take in a show at one of Munich's premier lap dancing club. With entry guaranteed you can either chill out at the bar or head in the back to guarantee that this isn't a night that you want to forget!
And that's not all. Even after hours of pub crawl and lapdancing club fun you'll head over to one of Munich's most popular nightclubs to round out this incredible evening. If you make it to the end in one piece, you have our respect as a bunch of stags who know how to party!