Getting around
You don't need to drive for your Bournemouth stag do. It's just 90 minutes from London Waterloo on the train, and the station is just outside the town centre, so a 10-minute taxi won't drain the kitty. Plus we can arrange convenient door-to-door transfers for all of your stag activities, should you need them.
If you are driving though, there are plenty of secure, 24-hour car parks in central Bournemouth. And if you need your motors close to hand, ask us about stag hotels in Bournemouth with parking, as we can help.
As far as getting around Bournemouth itself is concerned, it's a breeze. There are convenient and regular bus services (the main terminals are at the train station and in the Square). You almost certainly won't need them though, as Bournemouth is very walkable.
There are also handy taxi ranks around Bournemouth, including Pier Approach, the Square, The Triangle and Lansdowne in the town centre. If you think you'll want a cab back to your hotel at the end of the night, we recommend booking one as Bournemouth nightlife is so popular that there can be a wait when the pubs and clubs close. PRC Streamline and United are the main services.
For easy beach-hopping, grab yourselves some Beryl bikes. There are loads around and once you've downloaded the app they're just £1 to unlock and 5p a minute to ride. Note however that you're not allowed to cycle on the prom in July and August, as it's too busy with people.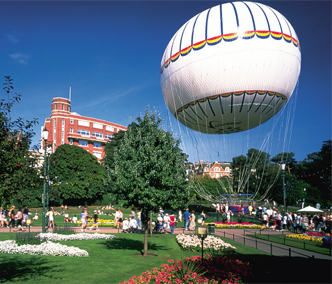 Tips and ideas
Bournemouth has always been one of the south coast's most popular seaside resorts, but in recent years it has reinvented itself as a major hub for nightlife, and we think it's become one of the top stag do destinations in the UK. And in terms of stag activities you really are spilt for choice, because you've got inland adventures, but also loads of watersports (not that kind, dirty minds) off the coast. Think Power Boating, Surf Lessons, Coasteering and madcap Boat Parties. So bring your swimming cozzies lads.
Famously, Bournemouth also has seven miles of golden beaches that arc around Poole Bay, many of them Blue Flag. Bournemouth beach itself is the busiest of course, but a mile and a half east you've got Boscombe which has activities such as Bouldering and Beach Volleyball available, as well as plenty of cafes. From Bournemouth town centre to the sand, you simply wander down Pier Approach through the scenic Lower Gardens, then the historic Victorian pier and the promenade are right there. The prom is about 10 miles long, and flat, so it's ideal for cycling along, outside July and August.
So let's talk stag do activities in Bournemouth. We've already mentioned the watersports (No! Not that kind, pack it in). You can go Paddle Boarding here, Kayaking, Jet Skiing and Kite Surfing (subject to wind conditions), so there's every excuse to spend most of your days on the beach.
Inland, you've got all of your classic experiences that our friendly team of Bournemouth stag organisers will be more than happy to help you book. Quad Biking, Clay Pigeon Shooting, Paintballing. You know the drill: fun, fun, fun. And in case you weren't aware, Bournemouth is one of the very few places in the UK where you can legally shoot Assault Rifles with live ammunition at a specialist range. So you can unleash your inner-Rambo if that's your thing.
There's also Bournemouth Pier of course. It's a family-friendly place obviously with cafes, shops and a bar and grill. There's also a Zip Line, but if you like monkeying about then you may prefer to do a High Ropes Course, where you get a lot more bang for your buck.
Last but by no means least, where to eat. There are plenty of great Bournemouth stag do restaurants. Both Walkabout and cocktail bar Revolution naturally appeal to groups of lads, with lively atmospheres and you can stick around for as long as you want afterwards to get the drinks in. There's also Da Mario, which serves up filling wood-fired pizzas, which we know a lot of our stag groups have been to in the past and liked.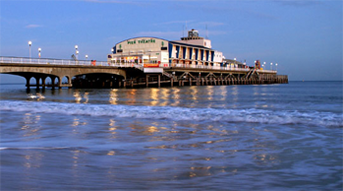 Nightlife
Bournemouth's nightlife scene is booming and whatever kind of thing your group is into, you can be assured of a good night out. You can also be reasonably sure of bumping into the odd hen party making the rounds as well.
Most Bournemouth stag do's tend to look towards the Old Christchurch Road area, where you'll find loads of stag-friendly bars, pubs and nightclubs. There are several good places along Exeter Road too, which we'll come to in a bit. There are a few good bars along the beach, and also some more bohemian joints in the Triangle, but in both of these areas places tend to be not so keen on stag groups. If you're well-behaved and split the group up before making your way in you might be alright, but we would suggest stick with Old Christchurch Road and Exeter Road for most of the time.
The George Tapps is a good place to start your evening hi-jinks off. It's a lively sports pub with several big screens, so if your team is playing that weekend, this is the spot you want to be in. 10 minutes walk away is the Mary Shelley, named for the writer of Frankenstein, who was buried in Bournemouth. Shelley was that is, not Frankenstein. He's not real. The Mary Shelley is a Wetherspoons, so you know exactly what to expect - decent beer and grub at decent prices.
The Goat & Tricycle, in the Triangle commercial area, has an excellent range of real ales. And just nearby you've got Smokin' Aces, a stylish whiskey lounge with a refreshingly informal entrance policy. If you and the guys enjoy a wee dram once in a while, stop in here. Then there's Chaplin's & The Cellar Bar, a CAMRA award-winning real ale pub, with an ace south-facing beer garden. Come here on sunny afternoons to make the most of it.
So that's your pubs and bars. Club-wise, Bournemouth is rocking. Popular stag spots include Cameo, which is reckoned to be the biggest club on the south coast. Why not find out for yourselves? There are four rooms each playing a different type of music all guaranteed to get you shaking your funky stuff on the dancefloor. Let us sort you out with booth reservations and VIP service so you can lord it over everyone else.
The clubs on Exeter Road include the fantastic Halo, which is located in an old church with balconies around the dancefloor and DJs pumping out R&B, hip hop and dance. There's also Bar So, a super-stylish place with a covered terrace, conservatory cocktail bar and basement dancefloor. Dress to impress.
For a more laidback atmosphere, try Aruba, which is a Caribbean-themed beachside restaurant and club on top of the pier. And you can also catch a solid roster of club nights and live music at the O2, which is not quite on the scale of its London namesake but has been known to attract the odd big name in the past.
If you feel like treating the groom (and yourselves) to a lapdance, then we're sorry to say that Spearmint Rhinos is no more. Whether that has anything to do with it being sued by one stag partyer who was allowed to blow seven-and-a-half grand there while drunk, we don't know. Happily, you've got the aptly named Wiggle on Old Christchurch Road still, which has lots of drink offers in case you need any further enticement.
FAQ
Is Bournemouth good for a stag do?
Bournemouth is an absolutely cracking destination for a stag do, with an action-packed nightlife scene, and stacks of great activities both inland and off the coast to enjoy. In fact, we'd go so far as to say that this might be the best stag do destination on the south coast (don't tell Brighton).
Can we wear fancy dress in Bournemouth?
Ye-eees. Certainly there are plenty of stag-friendly bars, clubs and restaurants across Bournemouth that accept that some groups of lads will turn up in fancy dress. But if you want to get into places with no problem, better to keep it quite low-key. No giant schlong costumes.
What are the best Bournemouth stag do bars?
We'd recommend sticking to the bars and clubs around Exeter Road and Old Christchurch Road in the evenings, as these tend to be the most stag do-friendly areas of Bournemouth. Pubs-wise you've got the popular sports pub The George Tapp, and the Mary Shelley which is a classic 'Spoons. We also really like the beer garden at Chaplins & the Cellar Bar, and especially the easygoing ambience at Smokin' Aces whiskey bar.
If you have any other questions about where to go on your Bournemouth stag weekend, our party planners are ready and waiting to answer them with their first-hand knowledge. Or, why not opt for a Guided Pub Crawl, the best way to get your bearings on the nightlife with personalised routes according to your group's interests.
Do you sell Bournemouth stag weekend packages?
Keep it simple with one of our off-the-peg stag packages, designed to do the heavy work for you. We have a range of stag weekend packages for Bournemouth that include your accommodation and a selection of activities, sometimes with an evening meal included. You can add further activities to them if you want, of course, but these packages offer great value as is, and they're based on our experience of the best stag activities in Bournemouth.
Where is your Bournemouth stag do accommodation located?
The last thing you want is to be too far out of town, which is why all of our Bournemouth stag hotels are located within a 10-20 minute walk of the town centre. Whether you want to be close to the bars and clubs along Old Whitechurch Road, or to the golden sands of Bournemouth beach, just let us know as we've got something to suit every budget.
We've been organising Bournemouth stag weekends since 2004, and over the years we've built up good relationships with many hotel chains across the town, so as well as convenience we can offer you excellent rates.
Ideas for Bournemouth stag do activities
What makes Bournemouth so special is that you've got 10 miles of beach, with stacks of great watersports to enjoy along it, as well as all of your classic stag activities inland to boot. So on top of ever-popular experiences such as Paintballing, Clay Pigeon Shooting and Quad Biking, you can add wild Boat Parties, Coasteering and even Multi Activity Watersports packages. Just let us know what you'd like to book and we'll take care of everything else, as well as convenient door-to-door transfers, if you need them.