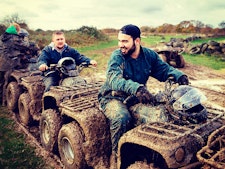 Quad Bike Experience
So you've planned your bar crawl and your big night out in Nottingham with the boys, but why just have a stag do that's limited to the dark of night when you can enjoy a day of adrenaline-charged quad biking around the vast woodlands of Sherwood Forest? It's an experience like no other and is the perfect way to bring all the lads together for some great fun before the big day! You'll have 150 acres of land to roam and to test out your driving skills, this is where the rules of the road get left behind and you unleash your inner driving demons! As much as we know you boys love to compete against each other, this is not a race – more of a fast-paced trek.
The quad trek is designed to give first time riders an opportunity to experience the thrill of off-road riding whilst still offering enough testing sections to keep the more experienced off-roaders on the edge of their seats. You'll start off your adventure on the flat-tracks where you'll practice basic control of the bikes, once you're all ready and raring to go you'll be let loose into the 'jungle' where you can really test your new found skills out. Battle through the hills, slopes, straights and water pits as you tackle a truly awesome outdoor adventure together!
An experienced instructor will join you on your trek and will give a quick safety briefing before you embark on your biking voyage. They'll make sure you boys have an absolute blast and experience the full fun that quad biking brings! Bring along sensible footwear and comfy clothing, you're guaranteed to get wet and dirty so dress right for the occasion. This is a great activity to get all you boys geared up for an awesome stag do. Who will come up trumps and be crowned the king of the quads?