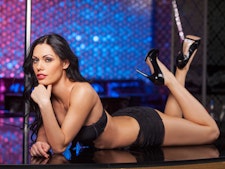 Saturday Night Lap Dancing Entry
To send your mate on his way to married life with a smile on his face, let us sort out an evening of erotic entertainment he won't forget in a hurry. We'll arrange guest list entry to the classiest strip club in Birmingham. Here you can enjoy the opulent surroundings, take advantage of regular drinks promotions. But we know you don't really come for the sofas and the chilled beer. That's ok – the reason this place is the best is down to the highly trained striptease, pole dancing and lap dancing artistes, who will have you dribbling into your glasses as you watch their eye-popping routines. Adult film stars regularly put in performances here, so you could see a well-known face (and body) on stage. This place is open seven nights a week. Why not take some time out with the boys to appreciate the female form and start or end your night with some red-hot entertainment?
So if you want to enjoy some of the finer things in life by sitting back and watching some stunning women dance and pose for you then this is your lucky ticket, son. The venue has a well-stocked bar, which you can work your way through as you spend time with your stag crew. There are plenty of saucy stage shows to keep you busy, but if you want to treat yourself to something more personal, then you can always buy yourself a private show in a private booth. Just make sure to keep your hands to yourself and that you're dressed appropriately as the club has a very strict dress code. This is a good time to encourage the stag (if he needs it!) to spoil himself a little with the attentions of a beautiful dancer. After all, you only live once, and this is his big night.