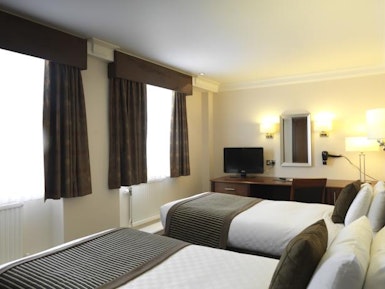 1 Nights Stay In Available Accommodation
The Royal Angus Hotel is conveniently situated for the perfect stag do, and you're just a stone's throw from the party hub of the city centre. Each modern room is equipped with an en suite bathroom, hairdryer, iron, ironing board and free unlimited WiFi, so you'll be able to surf the net from the comfort of your bed. You'll also have tea and coffee making facilities, so you'll be able to rustle up a cuppa whenever you fancy.
If you don't want to venture too far to buy dinner, then why not check out the onsite restaurant Monty's Brasserie, where you can dine in relaxed and comfortable surroundings and enjoy a great selection of British and European favourites. Breakfast is also served here daily (extra cost) from 7:30am-10:30am on weekends, so there's time for a bit of a lie in. There's also Wimsey's bar which is open daily until 11pm, so you and the lads can buy in a couple of cold pints ahead of the big night out. With the massive selection of nightlife just a short walk or cab ride away, you'll have a pretty tough choice deciding just where to go to mark the last weekend of freedom during your stay in Birmingham!