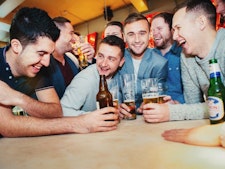 German Themed Bar Entry
Journey to the heart of Bristol to discover one of the most popular nights out in the city. Sort of like a mini Oktoberfest in the south-west of England, this place is loved for its crazy atmosphere, litre steins of beer and lederhosen (more of that later). Just next to Castle Park, the German-themed bar is slap bang in the middle of the action, with both the waterfront drinking areas and inner-city clubs within walking distance. Whatever you get up to in the day, you and lads should get here no problem.
If you're wondering whether or not to do a theme night, this will give you the perfect opportunity. Think stag in short leather breeches with braces, maybe even a frilly shirt and some sort of traditional Bavarian hat. Then think of the girls who are hopefully going to get involved in the fancy dress too. It's a win-win situation really. There's a proper Oompah band with brass, so expect everyone up on the benches, stomping their feet and downing giant glasses of beer. This is no place for wall flowers, but the vibe is amazing, you have to see it to believe it.
After the band, chart DJ's keep the party going until 2am. Let's not leave things to chance, because there's nothing worse than being turned away in fancy dress. We'll make sure your names are on the list for Saturday night and the door staff are expecting you. This way, you can look forward to an easy passage to the bar, where the mayhem really starts.