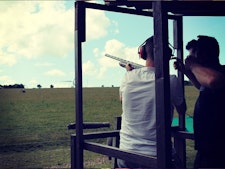 Clay Pigeon Shooting inc 30 Clays
Although a main element of the stag do is getting hideously drunk and partying the night away, one thing you must make sure you do on the last weekend of freedom, is ensure that you get something fun and active organised for you and the boys to get stuck into by day. It works as the perfect ice breaker if there's any members of the group that you don't really know, and is ideal for enjoying a bit of that much needed male bonding time.
We reckon that you and the rest of the boys will love getting involved with a thrilling session of clay pigeon shooting for the stag do to Manchester, so get ready to load the gun, steady yourselves, take aim, and yell 'Pull!' to release the clay pigeon into the air where you can take it down with an accurate blast.
There's nothing quite as exhilarating as firing a live weapon and with this Clay Pigeon Shooting activity in Manchester for your stag do, you'll get expert tuition on how to hit a range of targets and have up to thirty clays to fire at. It's a great day out for you and the lads and is the chance to prove which amongst you has the best shot – will it be the stag? Or perhaps you can beat him yourself and claim bragging rights for the rest of the day! Whatever the result, it will be an event you don't forget in a hurry! After all that hard work, you and the guys would have worked up quite the thirst, so why not find a pub and treat yourselves to a chilled pint?