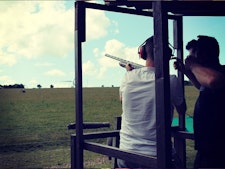 Clay Pigeon Shooting Experience
One of our most popular activities on a stag do in Newcastle, this clay pigeon shooting is one of the best for a reason. It's got all the makings of a great stag weekend in one activity: time outdoors in the fresh air, competitive time spent with your mates and the chance to pump a shotgun and shoot things. Before the class begins you'll be given a safety talk, equipment recap and a demonstration so you're familiar with everything before you begin.
The aim is to (funnily enough) aim for the flying clays and shoot them out of the sky. Sounds easy, right? Well in principle yes, and whilst it may take you a few goes to hit one, we promise that when you do, you'll be hooked! Take on the challenge of mastering this gentlemen's sport using several different 12 bore shotguns – Beretta and Benelli three-shot semi automatics, Beretta over and under. For the more adventurous, there is even a three shot pump action gun! Everyone gets 25 shots, so there are enough chances to shatter those clays.
The helpful instructors are there to teach you with the safe handling and use of the weapon. They're experts at helping you get the most out of the session, whether you're an old hand, or you've never tried the sport before. This event is a great excuse to head out into the glorious countryside outside Newcastle, where you can literally blow the cobwebs away from the night before with an hour-long, adrenaline-fuelled shooting session. Before long you'll be shooting pros as you stare down the barrel and blast the clays out of the sky. As the friendly rivalry kicks in you'll want to make sure each of your 25 rounds counts to hit the maximum number of clays and prove yourself the sharpest shooter. Puuulll, aim, FIRE!