It was a glorious day in London on Tuesday. The sun was shining, reflecting off the skyscrapers, the black taxis became saunas and the bubbles gleamed. Oh! Did you not know about the bubbles? The Stag Company are hosting the Bubble Football World Cup and Tuesday saw the big unveiling to the press in London town.
Powerleague Shoreditch was the venue of choice and was the scene of goals, big hits and silky skills. Bubble Football is a genius combination of the two kinds of football, the American gridiron game, and the globally popular one that actually involves using a foot. While the purpose is to get a ball in the goal, the rules on hits and taking out opponents are very open to interpretation!
Bubble Football turns everyone into a sumo wrestler thanks to not only being safe inside an inflatable bubble but also hits are allowed on any player at any time during the match. Imagine giving Vinnie Jones that kind of power in his prime! This brings new tactics and a different kind of star player (usually the big ones), sorry Messi.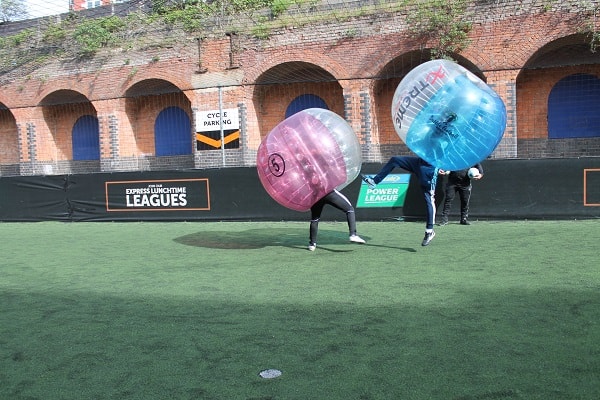 So, with Vinnie Jones well past retirement and Cristiano Ronaldo's insurance costing a bit too much for us, we instead opened the door on Tuesday for the UK's top journalists. They would bubble up and try the game that has become so popular with our stags, we decided to start a whole World Cup for it! Here is what they got up to when they visited us on the mean streets of East London.
The Day As It Happened
8am – Journalists arrive and are welcomed with open arms, with no knowledge of what they are in for when they get on the pitch! They are treated to some bacon sarnies in classic English football tradition.
8:30am – A demonstration is given to show how the whole sport is played. First it's how to even get into the bubble! Then seeing what is possible on the pitch and what playing football inside a bubble is like, the attendees then have the opportunity to see for themselves how tough it is inside the bubble. Four hard fought mini games gave them a real sense that bubble football isn't a matter of life and death, it's much more important than that!
9am – Bubble football takes a lot of energy to enjoy fully and so rest breaks are a must. To keep everyone entertained freestyler extraordinaire Mark Harlow showed what is possible with just a football and way too much spare time! After enjoying Mark's amazing ball tricks it was back on the pitch for bubble football round two.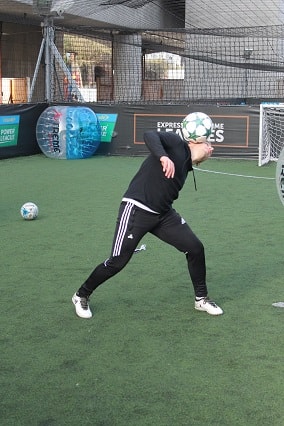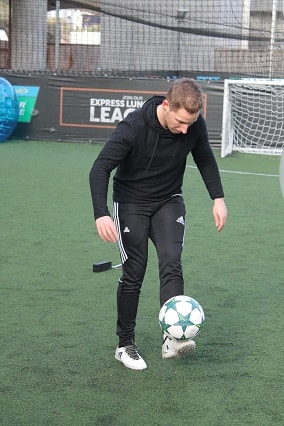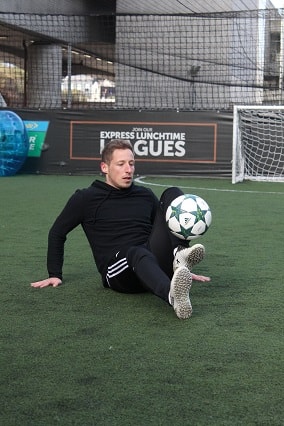 9:30am – The Stag Company's CEO and President of the Bubble Football World Cup Rob Hill gives a presentation on his plans for the next few years. June 25th sees a pre-cursor tournament which gives average Joe's the opportunity to represent England. The tournament will have 32 teams battling it out until a champion is crowned. That team will not only win bragging rights and a massive trophy for their exploits, but will also be the English representative at phase two of Rob's masterplan. The Bubble Football World Cup will take place just before the real deal in 2018. Unlike its more famous cousin's location, Moscow, the BFWC will take place in London town! Teams from all over the world will arrive on these shores for the grand prize and to be officially announced as the first ever bubble football world champions. Warren from equipment providers Xtreme also joined in the presentation to show how bubble football has grown and how the matches are played!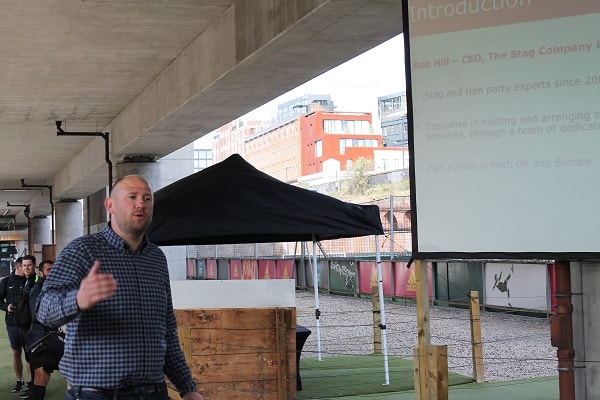 10:00am – There was one last opportunity for the journalists to have a go and get a goal if they hadn't already! They had really got into the spirit of the sport at this point. Bodies were bouncing and legs flapping as only they can in a match of bubble football. To celebrate the end of the games a traditional spread of oranges were on offer. The girls from BBC London especially showed real enthusiasm and were awarded man of the match for their efforts.
It Was A Big Success!
For being good sports the participants got their very own official Bubble Football World Cup goodie bag filled with fun items like a bottle of blowings bubbles and a branded bag. There were also things that would restore the energy they had used in the games. Clif bars, Exante Diet wafers and Go Green Powder were all included for the lucky journos.
As we bubble wrapped up, everyone was allowed to see what it was all about as the trophy was available for selfies but strictly no touching! The only ones who can do that will be those who dominate on the pitches of the tournament itself.
It's going to be unbelievabubble Jeff!