Christmas Gift Buying Guide
Categories: Stag Weekend News
Become a Present Buying Superhero...
It's that time of year again, and you just know that you'll need to bring your present buying A-game to please your girfriend, fiance or wife, and we've decided to help you out by suggesting a lovely selection of presents that we think are a great fit for the woman in your life! Take a look at the grid to pick the 'style' closest to your better half, and then check at which stage of your relationship you're in, and then lo and behold a perfectly picked present that should have you in the good books come Christmas morning. The days of petrol station flowers, a box of After Eights and a cheap necklace that clashes with everything your lady owns are long gone friends, start buying presents that she deserves!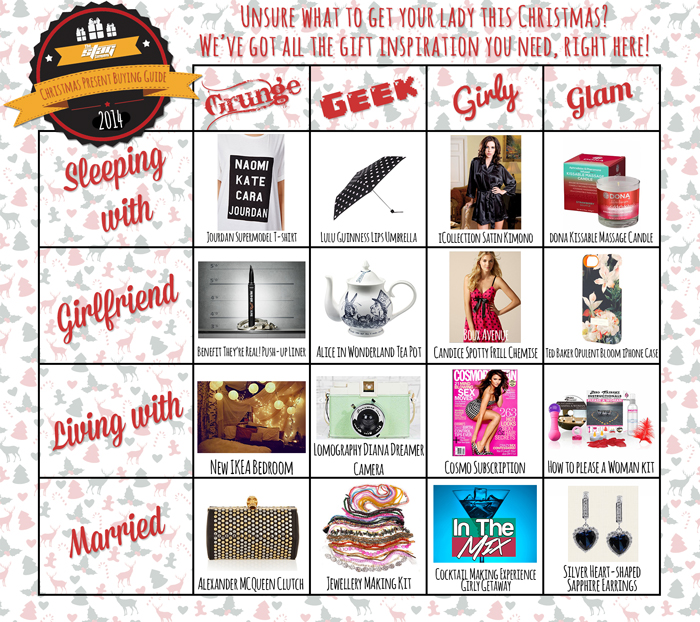 Sleeping with
Grunge:
Jourdan Supermodel Boyfriend T shirt
- £12.99 If you have a cuddle buddy who likes to have an edgy, more relaxed approach to fashion, this gift is the winner for sure. She will love the fact that you appreciate her style and that she can be totally comfortable around you. Every edgy gal like Cara, Naomi and Kate, the IT girls of rebellion in the fashion world. She will totally rock this tee with a pair of black skinny legs and a cool little hat.
Geek:
Lulu Guinness Lips Print Lined Superslim Umbrella
- £28.00 The rainy season is officially here. If you want to get your lady friend a practical gift, this is totally the one. This Lulu Guinness Lips design umbrella is quirky and sweet, much like her personality, so she will love it. And this way she will never be soaked from the rain, all thanks to you. Awww that's sweet!
Girly:
Icollection Satin Kimono-style dressing gown
- £21.99 If you are sleeping with a girl who is into her girlie things, has a really pretty bedroom and wears her pink slippers around the house, we have the perfect Christmas gift for you to her. This Satin Kimono dressing gown will fit in great with her style, and she will feel pretty and sexy. You can thank us later.
Glam:
Donna Kissable Massage Candle
- £8.50 If you are ever in doubt of what to buy for a girl, you can never go wrong with candles. The great thing about them is that they are all different and apart from their purpose to create a relaxing ambience, they can in fact create a very fun and sexy mood. Surprise your lady friend with a sensual and flirty gift. This kissable massage candle is just the present for her; it has a great aromatic smell and once the wax is melted, it's kissing time!
Girlfriend
Grunge: Lash hugging gel eyeliner - £18.50 and UK's no 1 Best selling mascara - £19.50 Pretty much every girl I know owns at least one item of makeup, but the ones they never go without are definitely the mascara/eyeliner combo. It's part of our world and we love it. Your girl will totally adore this gift consisting of the new gel eyeliner and long lash mascara, especially since they are both from Benefit cosmetics. Geek: Alice in Wonderland tea party pot - £35.00 It's winter, it's cold and your girl will probably choose to spend most of her time inside updating herself on the latest techy things or watching her favourite doco's. As a Christmas gift, this tea pot will be a great prop for her homely winter evenings. Not only it's super cute and quirky, but it really does the trick…nothing better than a nice cuppa on a cold winters day. Girly: Candice Spotty Frill Chemise - £30.00 Dorothy Parker once wrote that brevity is the soul of lingerie, and she was totally right! There is something so fabulous about a nice chemise or a glamorous, sexy piece of lingerie. So take our word for it. This chemise is the perfect gift for a girly girl who loves pretty things and fashion. This little number is pink, it has polka dots and it's super cute, so she will adore it. Glam: Ted Baker Opulent bloom iPhone case - £29.00 If you are dating a girl who likes a little bit of glam, chances are she likes style and luxury too; you know, the finer things in life. Your glam missus will definitely get excited over this lush and stylish Iphone case, from Ted Baker. Now every time you message her, she can look at her phone and smile (cheesy but true).
Living With
Grunge:
New bedroom Ikea
- £0.00? Ohhhhh she will love you for this one! Christmas is all about giving and being jolly, so why not give your partner her dream room? That's right, take her to Ikea or any shop you prefer and know off, and let her give your bedroom a bit of an interior decor surgery, from wall to wall. This will make her really happy and she will also probably want to spend more time in there!
Geek:
Lomography Diana Dreamer Camera in Mint Green
- £50.00 These days, taking photos is a trend so many people like to be part of. Thanks to our dear friend Instagram, who makes us look oh so good even when we don't, we can now pretend we are born to be photographers. But women in general tend to take photos of everything and anything that looks pretty, colourful and or is food. If you want to spoil your girlfriend with something nice and different, this Diana Dreamer camera will totally do the trick. But be warned, she will most likely start taking more photos than usual.
Girly:
A year subscription to Cosmopolitan magazine
- £24.00 available in print and electronic devices You can never go wrong with magazine subscriptions. You see, magazines to women are like beer to lads, both necessary and refreshing. Imagine how good you would feel if you had beer delivered to your doorstep every month? Why not surprise your girlfriend every month with her favourite mag right on her door step. This will win you major brownie points.
Glam:
How to please a woman kit
- £25.58 Make your girl feel sexy and jolly this festive season. Why not give her a naughty treat for her guilty pleasures… This little pack of goodies will most definitely make all her wishes come true. She will definitely appreciate your willingness to make sure that she is happy and appreciated.
Married to...
Grunge: Alexander McQueen Studded Leather Clutch - £1195.00 No matter what designer handbag or clutch you want to get for your wife, 9 times out of 10 she will love it. But an Alexander McQueen is something else; there is no other designer who is more edgy or glam rock, who challenged others and set the trends his way. She will feel like a total trend setter holding this studded beauty. There is absolutely no doubt that she will fall in love with it.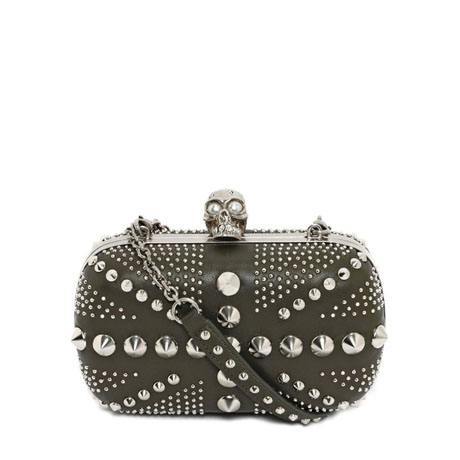 Geek: Matrix Jewellery Making Kit - £125.00 If you want to surprise wifey with something different and sweet, this jewellery making strand selection is your winning item. She will indulge in hours of creating her own accessories, whilst you can have that one extra pint at the pub with the boys. Winner!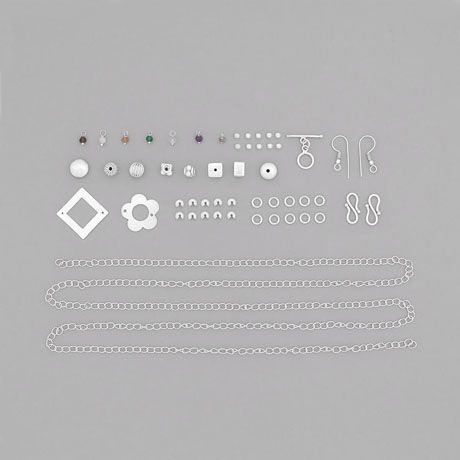 Girly: Hen Heaven cocktail making class - varied prices Treat your wife and her closest girlfriends to the ultimate girls experience, a cocktail making class. They will be welcomed with delicious Strawberry Woo Woo's and tasty canapés. This is the perfect gift for her to celebrate the festive season. With her new cocktail making skills, no doubt she will treat you to a few as well.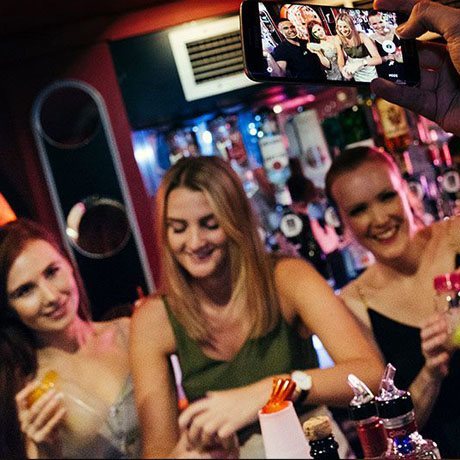 Glam: Carat Silver Heart Shaped Sapphire Blue Coloured Drop Earrings - £269.00 Women love to be spoilt and showered with gifts, and this pair of earrings will be the perfect Christmas present for your glam wife. Ad some extra sparkle to this Christmas and spoil her with these gorgeous and luxurious heart shaped sapphires. We have a feeling she will totally adore them!