Let's face it, most of us guys are happy to leave the majority of the wedding planning to our other halves. We're not all about talking flower arrangements over a pint down the local on a Friday night, or tasting ten supposedly 'different' cakes to get the perfect ratio of jam to sponge.
What we are interested in though is anything with an engine, which is why when it comes to wedding transport we're all over it. If there's one thing we can have control of when the big day rolls around, it's what we rock up in, and it's got to be something pretty impressive.
Here at The Stag Company, we've been trawling the internet looking for our favourite wedding transport ideas-here's our top picks for making a statement and arriving in style…
Tractor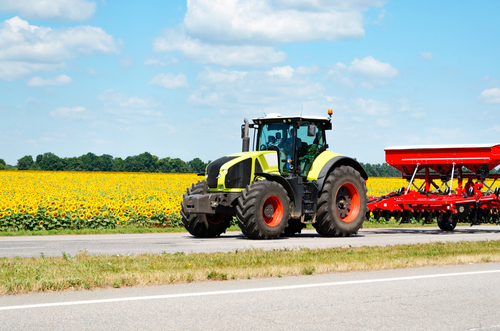 Whether you genuinely live on a farm or are just after a ride on a proper boy toy, a tractor is a guaranteed way to make a real entrance to your nuptials. They're a fitting ride if you're having a wedding in a barn or the countryside, and make a great addition to your spring/summer wedding photos. Bonus points if you can actually convince your Mrs to step on board for a quick photo op!
Consider this-if the weather isn't great you could find your suit getting muddy which could threaten to ruin your big entrance. Combat this by choosing one that has a sheltered place to sit.
Horse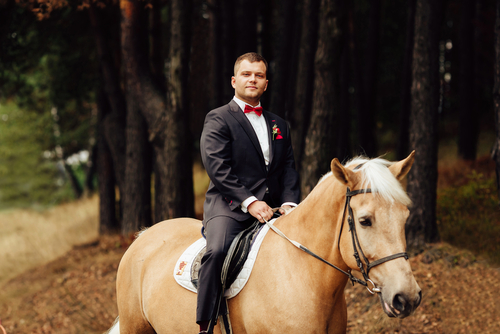 It's a winner for the all-important wedding photos to arrive on horseback, plus chances are you'll be in for some serious brownie points with the Mrs when you pitch up prince charming style to the ceremony. In true super hero spirit, the key is to look casual and relaxed on the horse so this is a no-go if you aren't a confident rider. Looking petrified and as if you're about to fall off will only make you the butt of banter between your mates so approach with caution if you're a novice.
Consider this-you'll need to either ride on the side or have a suit with a bit of give-if your trousers are fairly form fitting riding traditional style is a no-go-a ripped suit before the ceremony won't stand you in good stead!
Helicopter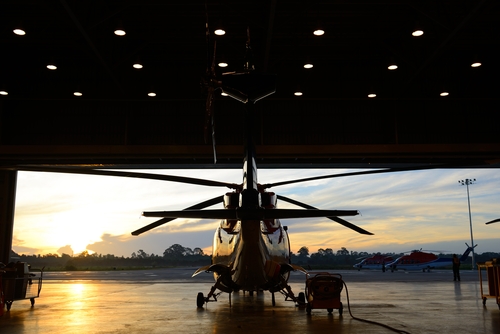 Ok, so this one is more of a blow the budget option for if you have more than a few pennies to spare (lucky you!) or if your Mrs loves you very, very, much. It's got to be the ultimate way to arrive in style. Not only will you be able to snoop on the guests and suss out the venue from the comfort of your very own flight, you'll also be the envy of all your groomsmen-and let's face it, who doesn't want that?! What's more, you can sit back and relax safe in the knowledge none of your mates can top this one.
Consider this-You'll probably be up in the air for a while to make the most of your experience, so it's worth considering having some company when you take to the skies!
Motorbike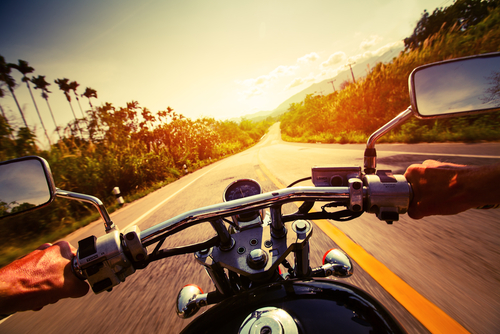 We can't all have our own motorbike, but we sure as hell can rent one for our wedding day. If you've always wanted to burn some serious rubber, make your entrance known and hire one out. Vintage models might be more fitting for a wedding, but either way, people are likely to see you before they hear you so you can really make a roaring entrance-after all, a wedding isn't just about the bride is it?!
Consider this-Motorbikes won't fit with every wedding-if you're turning up at a castle you'll probably look a bit out of place, so consider your theme carefully.
Skydiving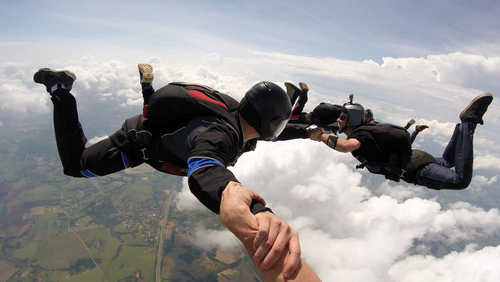 The ultimate in daredevil style, skydiving is sure to give you the pre wedding jitters of a different kind! On the plus side, you can tick off unforgettable life experience and married man in one fell swoop! For thrill seekers, skydiving is the best way to arrive at your wedding venue. At least saying the vows won't be the nerve wracking part of your big day!
Consider this-It might seem like an adrenaline fuelled and fun way to kick off your big day, but remember it's no walk in the park-if you have even the slightest nervous feeling leave it for another day or have a go before the big day-there's nothing worse than dreading what's supposed to be the best day of your life! It's the big question of the week-which will you choose?
Hey, while you're there, you might want to take a look at some of our bizarre transport options for your stag weekend.