So, as of yesterday it was another year of football done – the 2012/13 season is over and unlike last year and the splatter-bomb of sport that was the summer that followed "AGUEROOOOO" netting the Championship winning goal, we've got nothing to keep us occupied throughout the hotter months (apart from maybe a couple of stag weekends and days spent laying on the beach wearing mirrored sunglasses looking at things you probably shouldn't) so to prolong the Premier League aftertaste that little bit longer, here's what we at The Stag Company thought stood out the most from the campaign just gone:
Gareth Bale
Where else could we honestly start but with the one player that has without a doubt set the entire season alight? All those goals, that little love heart celebration (someone please tell me, why does he do that?) and how he has basically pulled Tottenham through the season and out of so many sticky situations by the scruff of their necks. The only sad thing now is that we worry he won't be here next season as the likes of Barca and Real come calling and empty out sacks of money on to Daniel Levy's desk (because that's how it happens, right?) Do you think he'll be heading away from White Heart Lane this season? We hope not.
QPR
Flipping over to the other end of the scale, QPR's season has been memorable to say the very least. We know they're no longer going to be in the Premier League next season but when Bale's old boss Harry Redknapp turned up hanging his head out of car windows on Sky Sports News there was a moment where we thought there was hope over the horizon. Lousy play, Bosingwa troubles, some ludicrously large money signings and a whole feed's worth of Joey Barton tweets later and it wasn't to be… Goodbye QPR.
No more Fergie Time
Talking of goodbyes, possibly one of the main reasons this season will be remembered is that it was the end of Sir Alex Ferguson's 26 and a half year tenure as the manager of Manchester United Football Club. Whether you loved him (you're a Man U fan, then) or hated him, you have to respect him as being quite possibly the best manager there has ever been. 38 trophies with 13 of them being the Premier League (which he of course just won again), we salute you Fergie...
http://youtu.be/lT68Fx11ocw
Special mention also goes to other big names that have called it quits at the end of this campaign. Wave goodbye to the playing days of
Michael Owen
(oh that goal against Argentina),
Jamie Carragher
(oh those crunching tackles against everyone), Steve Harper (oh those safe hands) and of course
Paul Scholes
, who deserves a standing ovation more than an 'oh' and some brackets!
RVP
All these farewells are making me misty eyed so let's swiftly move on to something a bit more upbeat shall we? Would Fergie have had to stay on for another year if he didn't get Van Persie in his squad to win the title? Possibly not but no matter what Piers Morgan or any Arsenal fan says, RVP came for silverware, he saw the Old Trafford faithful embrace him and he conquered - getting that Premier League title in his first season and maintaining that blistering form he had shown in the 2011/12 season… while Arsenal, well we'll get to that in a second.
That Bite
From one great player to another, but while one was getting set to lift the title, the other was sinking his teeth the arm of Branislav Ivanovic. There… are… no… words. If you've read this blog this far then I'm going to guess that you've already seen it – but for your bemused viewing pleasure, here it is again:
http://youtu.be/0I1TWPm4n6M
The 4th Place Race
Something that is still incredibly fresh in the memory as it only all came to a head yesterday. I'll admit it right now and say that I'm an Arsenal fan (go on, start booing) and had completely written them out of it and was calling this 'the season Arsenal don't make the Champions League'. Right now it feels the title race was sewn up from the offset but in the campaign's fleeting weeks things were blown wide open for 4th spot. How did it all end? With Arsenal celebrating their 'trophy', Tottenham ruing missed chances and Chelsea sitting pretty in 3rd. Maybe next season ey, Spurs? (Sorry I couldn't help myself).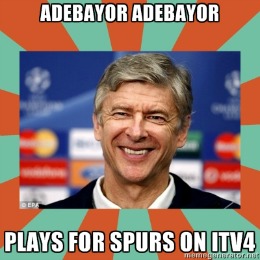 … Aaaaaaand that rounds things off for another year – there is a lot more, but to be totally honest, we've just started discussing David Beckham's 5 Best and Worst Moments for another blog now that he has retired, so keep your eyes peeled for that one, because there is a lot of memories packed in to that one.