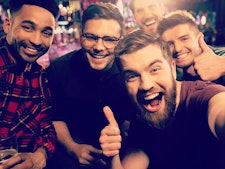 LimoBike VIP Beer Bike
Especially in a party loving city like Amsterdam, a good stag do is fuelled by beer. And if there's one thing that Amsterdam loves as much as it's partying it's the bikes. From the moment you step into Amsterdam's busy centre you'll see for yourself. Everyone's riding around on a bike! And that's why a Beer bike experience and your stag do is a guaranteed formula for success.
You'll be doing all the pedalling, which can be thirsty work – don't worry, because this is a beer bike and your hydration comes in the shape of 20 litres of the finest golden nectar around. And just think – the faster you work through the barrel, the lighter the journey gets. It's like being on a portable pub!
Of course, we don't endorse drunk driving, that's why you'll have your very own chaperone who'll be doing the bits such as steering. Your overall journey should last 90 minutes.
If you're looking for something different and unique, then pedalling around Amsterdam by bike while glugging beer has to be up there on your stag do must do list. You and your mates are guaranteed to have an absolute laugh and chances are that this experience could become one of your most treasured stag do memories.