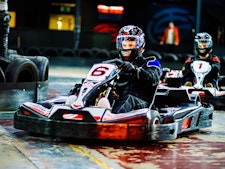 Indoor & Outdoor Go-Karting Experience
As go-karting experiences go, they don't come more adrenaline-pumping and high-energy than this! You may well have been round a few tracks before, but we'll hazard a bet that you haven't driven on anything like The Circuit! We are talking 900 metres of Formula One-style pure pedal-to-the-metal fun for you and your stag party!
The track takes drivers outside into the elements twice over the course of one lap – first the 'Into the Cold' hairpin, and then later on you'll hit 'Thunder Road', with two fiendishly fast straights and a banked hairpin corner! Throw in the 'Monaco Tunnel' and you've got yourself a circuit that has rightfully won awards for being so darned good!
As you're zipping left and right, you'll put your driving skills to the ultimate challenge. With your foot to the floor you'll be flat out on the straights where you'll hit speeds of 40kmh-plus. This is a real battle of nerves, wit and skill, to become the winner and take the podium.
You can really build up some speed, plot your race lines and make sure pole position and a place on the winners' stand has your name on it. That should sort the men from the boys – and earn the victor some serious bragging rights! We'll provide the overall, helmets and a qualified instructor – you just show up ready to burn some rubber! Who needs Monaco or Silverstone when you can all make like Lewis Hamilton or Sebastian Vettel for the day at this high-octane go-kart-racing session in Liverpool?
You and the boys will be properly pumped after this challenge and ready to take on whatever stag activities there are lined up – it's a brilliant way to keep a bunch of guys entertained before the evening's shenanigans begin in earnest! It's up to you whether you spray each other with champagne, or simply make whoever came in last get in the first crucial round after the race!