The August Bank Holiday weekend means many things, like a Monday off for most of us and also
Reading and Leeds Festivals
! If you're going this year you may want to cast your eyes over these tips that'll help you own the weekend!
Get there quickly
Shuttle buses are available throughout the weekend, so you should definitely consider getting this from the train or coach station to the festival site. Just think about all the stuff you'll be carrying with you. Trust me on this one!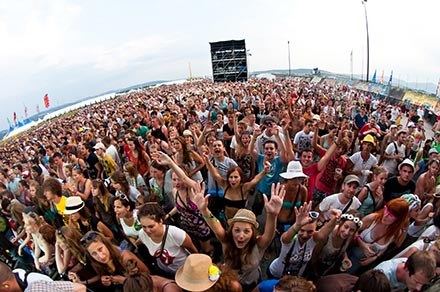 Keep your stuff safe
You don't really need to be told to look after your stuff, especially as you'll probably at least have your expensive smartphone with you. Just keep valuables to a minimum and keep them on you if you can. At Reading you can get phone and wallet lanyards available on site from the local police which will be great for keeping your belongings safe.
Essentials you might forget to take
It can be easy to forget some of the essentials for your weekend so here's a quick list of some things you should definitely take with you:
Water, sun tan lotion, after sun, baby wipes (shower in a tissue), a small first aid kit, an extra pair of pants, toilet paper, a torch!
Luxuries you could take
If you're lucky enough to be driving to the Festival or have the ability to carry a bunch of stuff then you really have no limit to what you could bring. Some garden chairs would be pretty sweet, one year some guys had a huge gazebo that my friends ended up stealing for our campsite, I felt bad but it kept us dry most of the weekend.
Don't wear your favourite Nikes man!
Your favourite trainers or shoes + a weekend spent in a (potentially muddy) field = you being very sad come Monday morning. If you don't really have a knock around pair of trainers maybe just suck it up and buy a cheap pair, otherwise you're going to have to make the hard decision about which pair of Vans to ruin.
Best area to camp
Try to get a spot far enough away from the walkways but not too far that you get lost and end up in the middle of some other camp. People seem to arrive earlier and earlier with each year so unless you're there on Wednesday night you will have to scour the site for a decent spot. Also take note of the area you're camped in, this will make it far easier to find the general area your tent is in when its the middle of the night.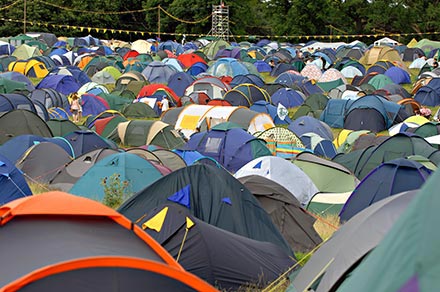 Avoid those sneaky charges
The ATMs on site will charge you a couple of quid per transaction. You should head out of the festival site and find a cash point close by. There are supermarkets on site but you'll pay a premium at these, so you may as well get some cash and then stock up on any food you need off site.
Hate the toilets and showers on site?
The Rivermead Centre is close by in Reading and you use their pool and showers, you'll have to pay but compared to standing in a field and showering or going poo poo it'll feel like luxury. Failing that get something like a Shit Box, then you can disappear into the trees and use a makeshift, cardboard crapper. Speaking of things like that, here is a bonus video of a man sliding into a woman's pee stream at V Festival 2012: http://www.youtube.com/watch?v=D7xX8vYwqkc
Drink plenty of water
Keep a bottle on you; there are points where you can refill your water bottles for free throughout the campsites. Be sure to drink plenty of water especially if the warm weather that is being talked about shows its face, heatstroke has never made anybody's festival experience any better.
Catch a late night movie
The festival's cinema tent shows a mixture of shorts and Hollywood blockbusters each night after the live music has finished. This year you can catch Iron Man 2, A Good Day to Die Hard, Star Trek: Into Darkness, Zombieland, The Dark Knight Rises and Skyfall!
Planning on bringing back the ladies?
Then make sure you've got an airbed and some pillows. You should also make sure you shower and even bring some Febreeze with you to spray in the tent before you head off to catch some bands. That way if you do get lucky your tent will come up smelling of daisies (or lavender, it depends what Febreeze you have I suppose).
Get some decent tunes
Even though you're listening to music all weekend you'll still want some tunes when you're relaxing or recovering at the campsite. Just hit up our recent
Stag Party Weekend Playlist
articles for some inspiration and then get a cheap portable speaker for the campsite. Can't stretch to a speaker? No problem, if you've got a pint glass or similar just put your phone in there and it'll amplify the sound, and much better than you think it would!
Slip your booze past the Arena security
The beer at the arena bars is pretty expensive, and unless you've got the brazen cheek to just turn and run with all of the beer you've just ordered the only other way to get around this is to sneak some into the arena. You'll mostly likely get frisked most times so grab some of reusable pouches (check out what I mean
here
, find somewhere inventive on your person to stow them and then smile and laugh to yourself as you're felt up by a security guard who has no idea you've got half a bottle of Jack in your pants. Be careful though, this is breaking da law maaaan and we can't really condone it.
Don't want your tent anymore?
Due to the amount of festival goers ditching all of their stuff at the end of the weekend the festivals now offer a recycling service, just literally chuck what you don't want in the relevant bays and rejoice in the knowledge that your stuff is way lighter to carry on the way home.
Got a festival survival tip that we've missed? There must be thousands, so let us know yours in the comments!