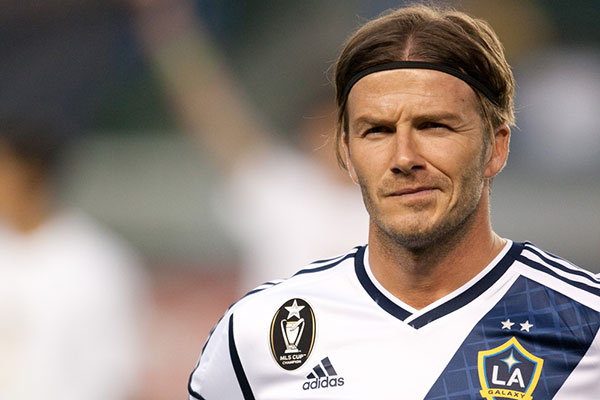 David Beckham: Five of his Best & Worst Moments
Image credit: Photo Works / Shutterstock.com Following David Beckham's final game of his illustrious career this weekend we thought it was only fitting that we celebrate the man. Love him or hate him, he's one of the best players of our generation. So let's take a look at five of his best and worst moments of his 22 year professional career.
The Best
Announcing his arrival with that goal against Wimbledon
This was the moment that David Beckham became the name on everybody's lips. Spotting Neil Sullivan off his line in a Premier League game at Wimbledon in 1996, it took just one swing of that now infamous right boot to make Becks a household name. The rest as they say is history. http://youtu.be/GKqqkW3ymxs
His best free kick ever against Greece
2001 saw Becks score that goal to send England to the 2002 World Cup Finals. After being awarded a free kick three minutes into injury time Beckham steps up and curls a beauty into the top corner, with Germany only drawing with Finland it meant England automatically qualified for the Finals. Quite possibly one of the best England moments I have ever witnessed! http://youtu.be/t0GESlaVNdE
Redeeming himself against Argentina
David was the villain in the 1998 World Cup in France after getting sent off for kicking out at Diego Simeone in the match against Argentina. Fast forward four years to the 2002 World Cup and it seemed like fate that we should meet the South Americans again. After being awarded a penalty Becks steps up to lash the ball home from 12 yards, redeeming himself for that red card and showing just how much it meant to him. http://youtu.be/bVUtpySic8s
Becoming an ambassador for London 2012
His best moments haven't always come on the pitch and many have said that his involvement in the UK's campaign to host the 2012 Olympics won round many a voter. The part he played in the years of campaigning ultimately culminated in him bringing the Olympic Torch to the Olympic stadium up the Thames on a boat. An awesome moment and one that made many realise there was more to him than a pop star wife and a wicked right foot. http://youtu.be/dk-sDskIFeQ
His final swan song
Following the emotional scenes that followed his final appearance for PSG and in his career it seems only fit that the final best moment is watching David leave the field on Saturday. Failing to hold back the tears, it was clear that walking off the pitch for the final time was too much for Becks. With many of his teammates dying their hair red, white, and blue in honour of the great man, this final video is a real choker. The celebrations that his teammates continue with after the game show just how much of a respected character he is in the game, especially considering he had only been at PSG for five months; as he rightly said they treated him as if he had been there for 10 years. A truely fitting end to a truly illustrious career. http://youtu.be/e_YQnVlSPEE
The Worst
Most professionals will experience both highs and lows in their careers. While Beckham's had more highs than lows, he still had his moments.
Cornrows
Most of Beck's worst moments came off the pitch, including some truly horrendous fashion faux pas. I'm hardly one to talk about fashion but when it came down to it some of his choices were let's face it, awful. First up, those cornrows (and a fair few other haircuts we're sure you'll agree!).
The Sarong
Following on with the fashion angle, we can't write about Beck's worst moment without mentioning that sarong as well! While there were plenty more to choose from, we soon realised we could have written an entire article just about his choice of clothing in the earlier days of his career. Were some of these down to Victoria Beckham? Possibly, but that still doesn't make it ok.
Red card against Argentina
Of course, the first moment that Beckham went from hero to villain was a red card against Argentina in the 1998 World Cup for a petulant kick on Diego Simeone. Cue the inevitable red card and World Cup heartbreak for England yet again. Many placed the blame solely on Beck's shoulders, but four years later (as you've seen from his best moments) he redeemed himself to the nation. Revenge is a dish best served as an emphatically taken penalty against the same team in the 2002 World Cup.
The Affair
Becks was in the middle of accusations about an affair with an assistant he had been delegated during his time at Real Madrid. Whether he did have an affair or not perhaps only he will know, but the woman at the centre of the allegations, Rebecca Loos turned up on TV again in March to talk about it again. She got a stack of money for some photo-shoots of the back of it all and not much else, while Posh and Becks are still together so we won't assume the worst here.
Beckham and the boot
In 2003 Becks was pictured sporting stitches above his eye, which were later found out to be as the result of a flying boot in the dressing room from none other than Alex Ferguson. Becks responded by lunging at his then manager. Much speculation about his future followed, and the following summer he joined the Galacticos of Real Madrid in a deal worth €35m. It bought his time at Manchester United to a bit of a sour end, but he has since forgiven Sir Alex. And so ends our tribute to one of the true footballing greats of our generation, we hope you've enjoyed it!