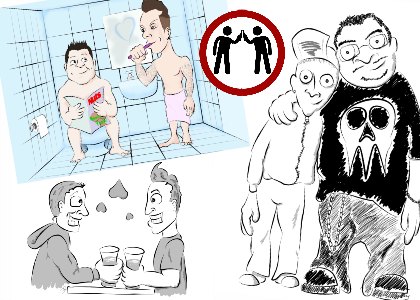 Stag Party Gifts
Planning your stag do can raise so many questions along the way. What activities should I try? Who should I invite? How many should I bring? But one question we've received quite a lot recently is whether the groom should be buying something for everyone attending and, if so, what we recommend they buy.
I've therefore created a list of the best stag party gifts I think you could consider for all of your best mates.
Personalised Gifts
I could highlight so many options, such as a personalised compass, slippers, tumbler, bottle of beer, lighter or a mug, all of which hold the same concept, it's the fact that there is a personal message enscribed.
Of course, you know your friends and family better than I do, so you might find they wouldn't appreciate a lighter, or you might find your mates would prefer personalised cufflinks that they could all wear at the wedding.
Group Photo
Not all presents have to be given on the stag do, one thing you could do is get a photo of everyone on the stag do together, then afterwards you could get it printed and frame it and send one out to each person who attended.
I think this is a great idea for saving the memory, it's actually something someone did for me and I still have it up in the living room 5 years on.
Tickets To A Comedy Show
It doesn't have to be a big name comedian, it could literally be tickets to a live comedy show in your local area, so you can follow the stag do with a great night with the lads once it's all over.
Life is about memories and as much as you could get a silly little gift which will most likely spend its life on a shelf, why not consider swapping this for a night out with your closest mates.
Bottle Of Alcohol
This one might be consumed a little quickly, while it won't offer the emotional aspect, but a bottle of booze always goes down a treat.
A bottle of whisky or a great gin would most likely be really appreciated by your friends, but this is quite a heavy option, while if you're going abroad you might not be able to carry liquids.
Celeb VM
We previously worked with Celeb VM and found them fascinating. The concept is that you can pay around £30 and get a real celebrity to make a short video message for you.
You can guide them on what to say, so you could get them to mention everyone's name and say something funny, while this is also a low cost option as it covers everyone, plus you don't have to carry anything!
Something For The Suit
If they're going to be attending your wedding then they will undoubtedly be suited and booted, so why not consider paying for an aspect of the clothing.
This could be cufflinks, the tie, a shirt or even a hat. Once you've worked out your colour codes, you can have a look around for something nice, but affordable.
Best Man Socks
Ok, this one might only be relevant for the best man, but you can get socks that state this, while the others you could always get personalised to say their nickname.
I've already mentioned personalised gifts as a great stag do accessory so I won't go into a huge amount of detail, but getting these socks means they could also wear them to the wedding.
Personalised Hip Flask
Ok, I'll be the first to admit this is a terrible gift. I mean, who actually uses a hip flask?!
However, I wanted to include it as it always comes up in every list, so there must be someone out there that has a use for it.
Subscription Service
There are so many subscription services out there, it's hard to keep up with them all.
This also means you can pick the one that you think would be most appreciated, whether that's craft beer, food, protein supplements or a magazine subscription.