TheStagCompany Rebranded After 13 Years
Categories: Stag Weekend News
Back in 2002, Rob Hill was working as a chaperone at Hen Heaven. Delivering hen groups all over Brighton, it was an incredibly fun job however Rob had an entreprenuerial mind and was always seeking ways to build a business for himself.
Noticing a gap in the market for stag do's, with only one other business in the industry, Rob setup TheStagCompany.com, simply offering Brighton as his only destination. He would also lead around all the stag and hen groups personally, often working 7 days a week and pretty much going the entire year without a day off.
In the first year of running, he sold just over 1,000 stag party packages. It was clear there was huge potential for growth, however Rob couldn't do it alone. This is when he took on his first member of staff, who was Nick Shuff, who is now a director at the company. At this time however, he was brought in to handle the sales and operational side.
As you can see below, The Stag Company site was VERY different to how it looks today, something we are very happy to leave buried in the past.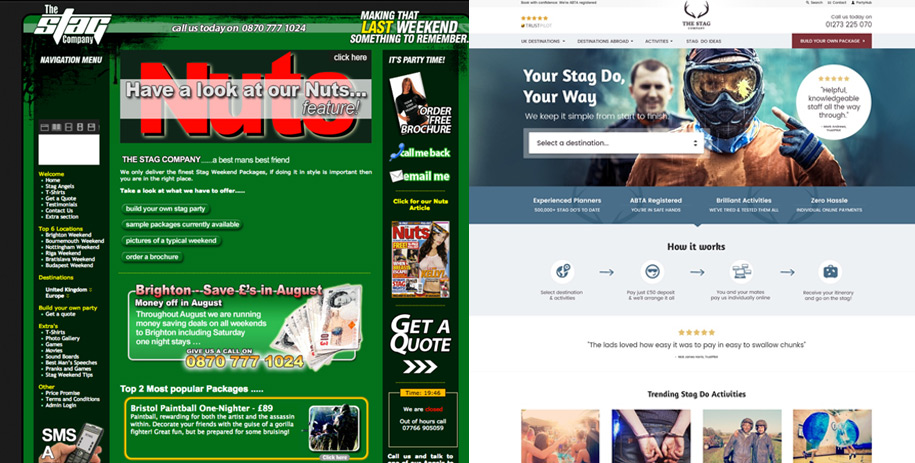 By 2006, TheStagCompany was ready to embrace further growth and was the first business to offer stag do's abroad, with many European cities being offered on the site.
Move on one year and the owners of HenHeaven were looking to sell the brand. Rob Hill didn't hesitate in making an offer and then bought out the company, combining the two brands under the Original Stag Company LTD, while Nick became a shareholder and COO in the business.
Everything at this point had been very much paper based, which has its inevitable issues, while modern technology was clearly the future, therefore Rob and Nick brought in the third big member of the team, Pat Heath. He joined the business and then built a bespoke IT system, which was setup to manage all bookings and automate all the processes, which freed up some very valuable time.
2008 was an equally big year, as the business introduced a revolutionary payment system for both brands. Of course, we were fast approaching the credit crunch at this point, so Rob had to sit down and consider what to do with the business during this difficult period. Most businesses, especially in the travel and entertainment industry, would be tempted to keep costs down and ensure they floated through, but Rob used his entreprenueral cap again, as he sought after a way to tackle quiet periods.
This is when he came up with the idea of offering office Christmas parties, as this was when the business was most quiet. In 2009, when the economic crisis was in full boom, Rob and Nick setup Eventa. The team was all growing, so they moved to the new office in Hanover House, where we are still based to this day.
In 2010, the turnover almost doubled, while the headcount continued to increase, now reaching 20 members. This was also the year the company became a member of ABTA, to illustrate their commitment to customer satisfaction.
By 2011, the business had grown by double the size in just 12 months. The work force also matched this growth, by increasing to 45 members.
In 2012, The overall brand name changed to The Eventa Group, which represented all three brands. The business came 80th on the Fastest Growing Business's In The UK, in the Virgin Fast Track 100 awards, a significant step in the companies progress. This was serious recognition for all of the hardwork put in over the past 10 years.
Rob Hill also won 'Entrepreneur of the year', as well as many other awards throughout 2012, being featured in several big publications.
With all of the success throughout 2012, Pat Heath then invested in the business and became CTO.
Any customer that has used us over the past few years will know the Party Hub, which is the customer booking management system we have in place, however this was only just introduced in 2014. The business also continued with their commitment towards customer satisfaction, by introducing part payment and instalment options. This helped to solve one of the biggest issues in the industry: How to gather money from each member of the group.
The business also sighted a potential gap at this point, as many customers were requesting houses, however they're notoriously difficult to book. TheStagCompany then bought their first house, based in Bournemouth, which they offer to hen groups and is always booked out, with its very own pamper room. Since then, the company has bought two houses in Nottingham and one in Brighton, which were all put live this year.
Now we have reached November 2016, a huge date in the companies history, where we have embraced a rebrand. The logo's had been the same for almost 10 years, so it felt amazing to unleash the new designs, which fitted perfectly alongside each other. Still, a rebrand is much more than just a logo change, there are new videos, images and content put out throughout the site, a complete redesign of the site and the page layout, new emails and communication with our lovely customers and a huge amount of branded merchandise which is everywhere in the office.
So say hello to our new brand and let us know what you think.