Four of the best drinking experiences in Dublin
Categories: Things To Try
With St Patrick's Day just around the corner, this week at The Stag Company HQ we've been turning our attention to all that Dublin has to offer-and believe us, that's A LOT.
Whether you're heading over for a stag do in Dublin or you're looking for ways to celebrate St Patrick's Day, it's more likely than not you're going to want somewhere to refresh yourself with a Guinness or two.
With so many bars and pubs to choose from in the city, it's hard to know where to go to get the party started, but here at The Stag Company, we like to consider ourselves experts in party planning so here are our top recommendations to get your drink on Dublin style…
Unlimited Weekend Pub Crawl
The ultimate evening activity for Dublin's partygoers, this pub crawl gives exclusive offers in 8 major Dublin nightspots. What's more, this pass is valid all weekend and gets dropped to your accommodation so all you need to think about is which tipple you fancy to get yourself started. You and the guys will also be given a Dublin city map and a pub rule game so you'll have a fuss free start to your big Dublin weekend! You will have entry to Fitzgerald's, Buskers Bar located in the city's famous Temple Bar, and Alchemy nightclub among many others.
Guinness Storehouse Self-Guided Tour
If you're heading to Dublin, why not take advantage of the city's unique activities? If you're after something different, it doesn't get much better than a tour of THE Guinness Storehouse. As luck would have it, our self-guided tour includes fast track admission to the seven storey experience, as well as a pint of the good stuff to toast the end of the tour. This is the perfect way to start your stay as you mean to go on in the Irish city.
Jameson Whiskey Distillery Tour
If whiskey is your poison of choice, a tour of the famous Jameson distillery is a must when you're visiting Dublin. With our stag do Jameson tour you'll be guided around the distillery and given a signature drink to sip on. You will be shown original kilns and will be able to explore the warehouses that have housed the whiskey for centuries. Not only will this tour get the drinks flowing, it'll also be a great talking point if you're hoping you'll have the luck of the Irish on your side for the evening ahead!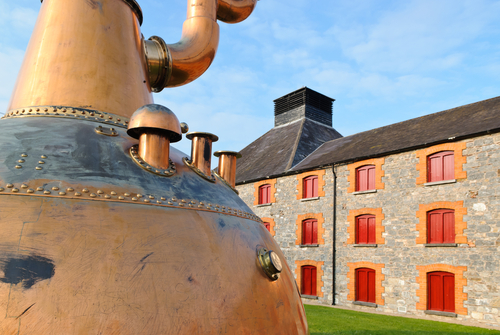 Pedi Bus Pub Crawl
What better way to explore the city's bars and pubs than to take a pedi-bus ride? Once on board the pedi bus, you and your group will find a U shaped table so you can all face each other whilst peddling between watering holes where you can stop for a drink or two. You can bring your own music, and the pedi bus even has a cover so if the weather isn't too kind you can carry on touring. Your entry to Nassau nightclub is also thrown in to this package so you can carry on the drinking well in to the small hours! You're welcome!
If any of this little lot have got you thirsty, call our party planners on 01273 225070 or visit www.thestagcompany.com for more info