Here at The Stag Company we're not just all about stag do ideas and stag weekends. After all, there would be no stag do without a wedding. Yeah remember that? The thing this is all technically about (and love, n' stuff…) Remember? Yeah? Good! Because it's the biggie, the plunge, the whole reason you're even going through all this cake tasting (which isn't so boring) and shopping for chair covers (boring.) However, aside from those minor details there are a few major wedding details that as a groom, you really shouldn't neglect:
• Picking the best man and ushers (don't let her bully you into picking her best friends, neighbours, hairdressers, the dentist who did her a favour that one time in 1999.)
• Writing a kick arse grooms speech
• Picking and keeping the rings safe (lose those and you are dead)
• Music (Get a say in this otherwise you might end up with an ABBA tribute band which despite what she says will not be "cute and fun.")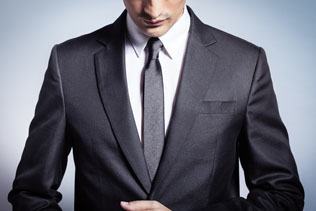 The Right Size
Now we're not going to cover all of those subjects in this article: we're just going to concentrate on the last point – how to pick your wedding suit. Because as far as we're concerned, the suit you get married in will be the most important suit you will ever wear. It will be captured in dozens of photos and will be admired by all the people you care about (and a handful that you don't care about it.) It's a big deal! So to help you pick the best one for the day, we've some handy tips for you to remember…
Have a budget in mind and get it approved by the other half
Sounds simple enough and yet people still seem to muck up, especially the budget part. This needs to be decided upon before you grab the car keys and hit the shops (unless of course you're rolling in money in which case… good for you!) Discuss this with the missus and make sure you stick up for your side, because trust me suit quality does matter and lack of it will show. After all it doesn't really seem fair that she gets a £2,000 dress and you get a £50 Primark jobbie.

Location, location, location
If you're having a beach wedding then a morning coat might not actually be a good idea. Similarly if you're having a castle wedding in Scotland a wafer thin, cream linen suit with flip flops is not a good idea. So think before you buy. Remember where the wedding is being held and buy appropriate clothing.

Remember the wedding theme and ask yourself - Formal or Unique?
Now we get that some of you may want something more unique than a tux or a morning suit (we've had a stag tell us that he got married in full Jedi Knight garb.) No doubt the missus will have something to say about the suit, whether it be colour suggestions or styles. Listen to her but remember – it is your decision at the end of the day. There's plenty to choose from and think about. Single breasted, double breasted? How about a tuxedo? No wait… a morning coat maybe? Tails and top hat? Two piece suit? Three piece? Tie? Bow tie? Cravat? Pocket squares? To cufflink or not to cufflink..? Kilt? Yeah there's a lot to think about and you haven't even gotten to colours yet (when you do get to it though remember your colour theme!)

The fit must be right
It's the sad truth but a well-tailored suit will make you look a million times better than a suit you pulled off the rack. If however you are going for high-street or a rental job, ALWAYS TRY YOUR SUIT ON BEFORE THE BIG DAY and remember the collar on a dress shirt should fit snugly around your neck (not too tight though!) If you can fit more than one finger between you and your collar, that neck size is wrong for you. Also when choosing a dress shirt make sure that the shoulder seams actually fall on your shoulders. Oh and keep your build in mind: if you are short try a single breasted, one button number as it'll elongate you and make you look leaner. If you want to appear bulkier, a double breasted number adds the illusion of a bigger upper torso. The trick is to try on a few styles and see which style and colours makes you go "Damn! I look good!" Because that's the effect you want and anything less like "Yeah, it's nice" isn't good enough.