Grooming for grooms
Categories: Wedding Advice For Men
Although the official wedding season is drawing to a close for now, many couples are still eagerly planning their big day. Whether yours is a winter affair or you're just thinking ahead for next summer, it's important to be well-prepared in the style department. There are a few occasions when looking your best is quite crucial and one of them is definitely your wedding day. Even a harmless bit of stubble could easily result in the bride running screaming from the altar, while you're left behind to pick up the pieces. If the penny hasn't already dropped on the matter, let us spell it out for you: Everything must be perfect.  And if it isn't? Well, you're in big trouble. Still with us? As well as looking good for your future spouse and guests, it's something worth doing for yourself, too. Rest assured you'll be looking back at the photos for years to come, and a dodgy haircut or droopy moustache are likely to be a huge regret. The key is to find a balance between tradition and style, and with lots of classic looks now making a grand return to favour, there couldn't be better time to be getting married. We spoke to our friends from Bluebeards Revenge for some expert tips and advice going to all the men getting ready for their BIG day.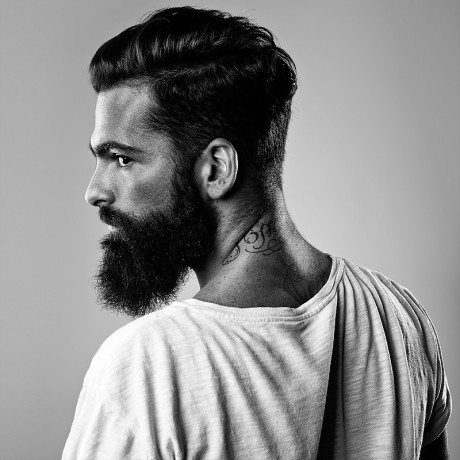 The Slick-Back
The slick-back look is big news, and after first making an appearance in the 1950s, it is today worn proudly by style icons such as David Beckham and George Clooney. The good news is, almost any haircut can pull it off. To achieve this look, simply apply a small amount of The Bluebeards Revenge's high-shine, wet-look Pomade to damp hair and direct the lengths backwards with a comb, smoothing frizz keeping hair flat to the scalp as you go. For an edgier look, try getting the back and sides of your hair clippered to a grade two, making for a disconnected and utterly modern take on the style.
The Pompadour
Elvis Presley and John Travolta pioneered the look back in rock and roll decade the 50s, and now the likes of David Beckham, Justin Timberlake and Zac Efron have brought it firmly back into the spotlight. This style works best with short back and sides and hair left longer on top – given the occasion, we'd advise a visit to the barber beforehand to ensure that you've got it just right. Once you've got your cut nailed down, you'll want to start with freshly washed hair in order to achieve the volume and direction required. Using your fingers to train hair upwards and backwards to create lift, grab a hairdryer and dry hair on a medium heat until only slightly damp. Next, warm a small amount of The Bluebeards Revenge Pomade between fingers to soften, and distribute evenly between palms. Apply evenly to damp hair, using your hands to create the beginning of a loose Pomp style. Pick up your dryer again, and starting from the front of the head, place a brush into the root of the hair, twisting up and backwards as you dry to continue to create extra volume. To finish, rub a 10p-sized amount of pomade between the palms and apply evenly from front to back, smoothing hair as you go and ensuring that every last strand is covered, and keep going until you've achieved that smooth, flawless shape. As well as keeping your hair under control, facial hair is a crucial element of your appearance to consider. While tradition says the groom should go clean-shaven, this is at odds with the current beard trend, so what can you do to comply with wedding etiquette without having to forego style?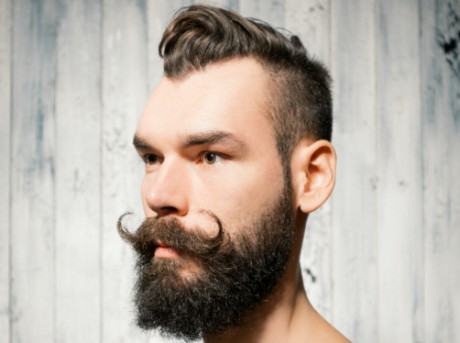 Beard
If you're going to embrace the beard trend, then compromise by keeping things neat and tidy. Remove hair from upper cheeks and neck and keep edges well-trimmed. To style, massage a few drops of The Bluebeards Revenge Cuban Blend Beard Oil into the skin beneath, using hands to smooth beard hair into shape.
Moustache
A well-groomed moustache can add character to any look, but keep yours evenly trimmed. To style it, use a small amount of The Bluebeards Revenge Moustache Wax, twisting hair upwards and outwards as you go into your desired style and shape.
Shave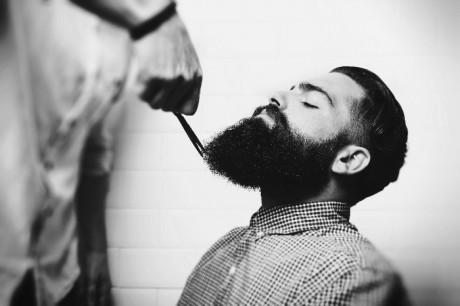 Don't fancy breaking with tradition? Then a clean shave is the way to go. Take time to prepare skin beforehand by pressing with a flannel soaked in warm water for a few minutes; then applying a generous layer of The Bluebeards Revenge Pre-Shave Oil to enhance razor glide and prevent irritation. Whip up a smooth lather with The Bluebeards Revenge Shaving Cream and carefully remove all hair with your chosen razor. To finish, a light application of Post Shave Balm will calm any redness, leaving skin soft and touchable – and leaving
you
ready to kiss the bride. Whatever your desired look may be, remember this is an important day for you, so you might as well look sharp!