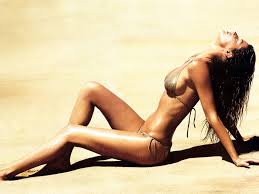 Hottest WAG's of 2014
Categories: Stag Sports
Here is it guys, the moment you've been waiting for. Yeah that's right, not only is the World Cup almost here, but so are the WAG's. Those lips, those eyes, those hips, those thighs…. Yep, they have it all.  We know the original one was none other than Posh Spice, but, since her wagtastic days, Posh has now settled into her fashion brand and has left the skanky world of "footballer's wives" status. As a girl, I always wondered what it takes to date a football player. I remember growing up in Eastern Europe, almost every boy I knew was playing football, and it was such a big deal. It seems like such a trend these days, it's almost a status isn't it?  Anyways, I have learned that a decent massive bust and behind does the trick. I have also learnt that most of these WAG's are models or promo/show girls. Something tells me that I am a bit too old to have a change of career and jump into any of those professions. But spending some time and doing some research for this piece, I must admit, these 11 women are absolutely stunning, hot, sexy. Here we go, the hottest WAG's of 2014!
1. Shakira
She had to be our number one. Shakira is looking smocking hot at 37. This petite sexy blonde is a mum, a singer, song writer, producer, The Voice Judge, a philanthropist; she speaks 5 languages, has an IQ of 140 and the way she moves those hips... Pat on the back for her husband, Gerard Pique.
2. Irina Shayk
They say Russian women are the most beautiful women in the world. They were right! The Russian hottie is a model, made the cover of 2011 Sports Illustrated Swimsuit edition and is dating Cristiano Ronaldo. She is by far one of the sexiest WAG's out there.
3. Sara Carbonero
Sara is probably one of the only WAG's who is actually NOT a model. This sizzling Latina from Spain is a TV presenter and sports journalist. She's not only a hottie, but has brains too. Iker Casillas and her have a child together and she has been considered as a distraction for him. Can you argue it?
4. Jowdan Dunn
Climbing the ladder from models to supermodels, this 23 year old British beauty is the current girlfriend of Liverpool's hottie Daniel Sturridge.  She has been on the runaway since the young age of 16, walking the catwalks of some of the biggest names in the fashion world. Jowdan's long, tonned legs make me want to go for a run and keep running and keep running…
5. Abbey Clancy
Wifey of Peter Crouch, and mother of their daughter Sophia, this 28 year old
Liverpool
born hottie has to be on the list. Abbey often parades her incredibly toned figure on exotic beaches, relaxing. What a life!
6. Ann Kathrin Brommel
She is young, beautiful and talented. At the young age of 23, Ann is already a well-established model, a blogger and a keen runner. With that figure, I totally believe she runs!  She is currently dating 21 year old Mario Gotze, but I'm sure if that doesn't work out she'll be fine.
7. Yolanthe Sneijder-Cabau
Born in Spain, this 29 year old beauty is married to Netherlands' Spencer Sneijder. Yolanthe is an actress and a TV host, but she is also an ambassador to a foundation which aims to put an end to child sexual abuse. She is smart, absolutely stunningly, classy and a philanthropist! Spenie has really hit the jackpot!
8. Natalia Velez
She has dated several different football players, however I think this 29 year old curvilicious beauty is still dating Radamel Falcao. Trying to find clothed photos of Natalia is like looking for a needle in a haystack- impossible. She totally has a killer figure, so kudos to her. If I had those hips, I would probably be living in sexy lingerie too.
9. Fanny Neguesha
Dating the funny guy of football, Balotelli's model girlfriend is seriously a babe! Her booty, hey eyes….all we can say is damn girl! He recently put a ring on it. Surprised?!
10. Antonella Rocuzzo
She is the WAG of one of the highest paid football players, Lionel Messi. A mother, model and WAG. In comparison to the other WAG's, Antonella made the cut for being the most natural looking out of all of them. Her and Messi have been friends since their younger days, aww how cute!
11. Gabriella Lenzi
Her athletic figure and gorgeous smile get Gabriella on the list of the hottest WAG's. She is dating
Barcelona
player, Neymar. I am not 100% sure what she does, but I presume she's a model??? Follow us on
Twitter
and ENTER our new COMPETITON