Jameson Distillery Tour VS Guinness Storehouse Experience
Categories: Things To Try
It's St Paddy's Day this week, and that means getting your drink on is pretty much compulsory. Ok, so not quite, but you get our drift-celebrations usually equal drinking, and it seems only right that we raise a toast to the Irish with a traditional tipple.
We know what you're thinking-this usually means one thing to most people-Guinness. But what if we told you Guinness has a whiskey based rival for our affections this year in the form of Jameson? We've got to admit, we're pretty much torn when it comes to these delectable drinks, so we're putting it to you, the great Stag-do- going public, to decide as we ask the question of the week-which do you prefer, Jameson or Guinness?
Of course, here at The Stag Company, we like to go one further, so a simple pint in a pub won't suffice for our Paddy's Day celebrations. We think if you're going to party Dublin style, you may as well make a weekend of it, so we recommend a Guinness Storehouse tour or a trip round the Jameson distillery to tickle your taste buds. We'll give you the lowdown on these two exciting stag do experiences, and then it's time to pick a side-which will you choose?
Guinness Storehouse tour
If you fancy yourself as something of a Guinness connoisseur, you'll want to take this self-guided Guinness Storehouse tour as part of your big weekend celebrations in Dublin. With our tour experience, you and the guys can enjoy fast track entry to the seven story experience located in St James' Gate. You'll be in good company too, as the experience is the most popular place for tourists to visit when in Ireland, and it's not hard to see why.
Now, on to the stuff on everyone's minds at this point-the Guinness itself. Obviously no tour of a brewery would be complete without being able to sample the goods, which is why the tour includes a pint of the black stuff to kick off your celebrations. As if you needed any more excuses to sip away, Guinness is actually pretty low cal compared with other drinks of its kind at just 198 kcal a pint. You'd be hard pushed to get a glass of soft drink for the same calorie content, and we know which we'd prefer.
Psst…did you know?
-The lease on the famous storehouse has been signed for 9000 years-now that's an entrepreneur with faith in his product!
-If your pint is served by a truly committed bartender, it should take them 119.53 seconds to pour. Don't judge them if they can't though-that is VERY precise even by perfectionists' standards.
- Around a whopping 10 million glasses of Guinness are sunk daily!
Jameson distillery tour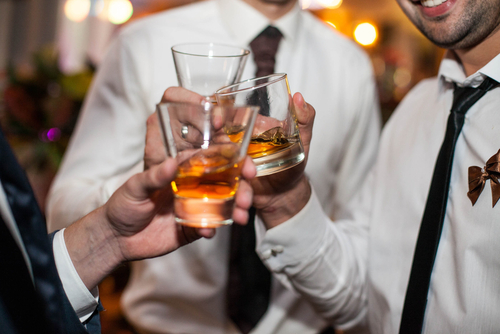 If whiskey is more your poison of choice, you can't go far wrong with a tour of the Jameson distillery. You can pick the brains of an expert tour guide if you decide to look around this Irish landmark and you and the guys will be taken back to the beginnings of this tasty tipple, when John Jameson started the business way back in 1780.
For those of you who aren't history buffs, there's a gift shop on site where you can buy exclusive Jameson items as a memento of the weekend and obviously it goes without saying you'll also be given a signature Jameson drink to enjoy so you can start your big Dublin weekend as you mean to go on. The fact filled tour is a great talking point on a night out, so next time you're left to wingman and make small talk, you can forget the usual weather chat.
Psst…did you know?
-Ever wondered what makes Jameson so smooth? It's triple distilled, making for that great finish we all know and love.
-Jameson is oak aged, as Irish whiskey must be maturing in Ireland for at least three years before it's allowed the honour of being named after the island.
-Jameson is made from barley, water and maize-who knew these simple ingredients, could produce such a taste sensation?!
Now we've fed you the facts, who will reign supreme? Who will end up victorious? Who will be crowned king of the beverages? You decide! Leave us a comment below and let us know your winner!
If you want to book a tour of the Guinness Storehouse or the Jameson distillery, call our party planners on 01273 225070 today!