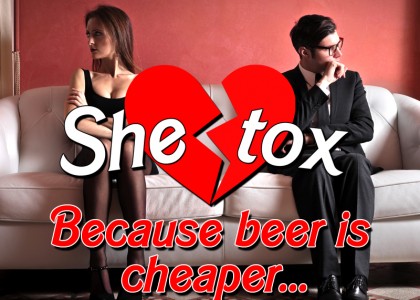 Say hello to the world's first SHE-TOX Package!
Categories: Stag Weekend News
You spent hours trawling the high street, asking her mates for tips, secretly dashing to check out her Pinterest page when she left it open to go make tea… In the end you got her the perfect gift. Fast forward Christmas Day you proudly thrust (steady on) a (badly) wrapped gift at her only to be greeted with a stale grimace and a "We need to talk…" BOOM. Five hours after the bombshell and an awkward hug later she's packed a bag, taken her Sex & The City box set (hurray!), her Homeland box set (nooooo!), piled it all into her car and driven away – never to be heard from again. Leaving you clutching what was an immaculately wrapped Amazon voucher wondering what the hell happened. Don't worry we've all been there. In fact, according to this survey October to late January is the peak time that couples break-up. So not only are you now single, you're also a statistic. Saying that though the pressure of Christmas nowadays can really get to people so (although it's sad when it happens) we're not too surprised that some couples snap under the pressure. However living in your dirty dressing gown and eating stale cereal out of a Tupperware container (fashioning your hand like some monkey paw scooper) whilst watching re-runs of Jeremy Kyle is not the best way to get over a break-up. Nor is going to your local (on your own) and drinking enough booze that the scent of alcohol actually starts to emit from your pores... Because we've had enough of the conventional heartbreak coping methods and as a result of this we've decided to create the world's first SHE-TOX package. This includes a day of clay pigeon shooting (to release all that pent up tension) before hitting the town for a night of drinking, ogling strippers and gambling. So go on! Book the SHE-TOX package and celebrate being a free man again! After all, you deserve to be feel like a million pounds. Not like victim of a heartless harpy (because let's face it, anyone who dumps anyone over Christmas is a little heartless.) Plus it's infinitely better than watching Transformers on Netflix and crying into your cuppa soup because you're alone (and because you're not currently dating Megan Fox) - trust me on this.