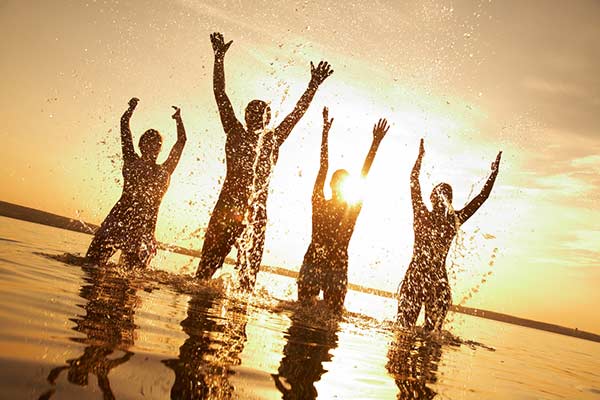 Stag Dos in the Summer Sun
If you need to plan a stag do and you want to get away from it all then it is perfect timing that we're coming into the summer season, which makes some nice hot places the perfect destinations for a stag do in the summer sun! Let's take a look at three of our most popular sun-soaked getaways and some of the most popular things you can do there!
Marbella
Ah yes, it's safe to say that A certain TV show based in Essex may have something to do with the appeal of 'Marbs', but take a second and you'll realise it has everything that a Marbella stag do is a great stag do makes a great stag do. You've got sun, sea and sand, plenty of places to drink and a whole host of fun stuff that we can arrange for your stag weekend! One of the best and most popular things you can do while you're here is take a cruise on a catamaran and have your very own boat party! That's right, sail out into the Med, moor up near a private beach and enjoy some cold beers in the hot sun. Sounds pretty appealing right? Find out more about a boat party in Marbs here.
Tenerife
Tenerife has always been a popular destination for British holidaymakers, and one of the island's main pulling points has to be the areas where you can party 24 hours a day making it ideal for your stag do! You get the fantastic weather yet again, a ton of bars and clubs packed tightly together and plenty of sandy beaches. So what's the best thing you could do while you're in Tenerife? Well what with all the hot weather a day out to a local water park probably sounds like a great shout, does it not? Let out the big kid in you for a day of water park fun with all manner of slides to tackle, and you'll even find lazy rivers and a Jacuzzi too. Ideal if you're nursing the world's biggest hangover from the night before. Get wet and wild on your Tenerife stag do by visiting their theme park or try a Tenerife boat party.
Ibiza
That little island called Ibiza has long been one of the original party locations, and can be found just off the coast of Valencia (another great stag weekend destination, by the way). It's really come back in over the past few years, thanks in part to the resurgence of the dance music scene and music festivals such as Ibiza Rocks helping the island appeal to other demographics. Everyone dreams of owning property out there, or at least seeing how the other half live. There's no better way to do that than to book you and the lads in to attend a daytime beach party at one of the island's VIP beach clubs, where you can enjoy some cold beers by the pools, book out some VIP day beds and check out the bars. No matter whether you want to take it easy in preparation for a big night or go for an all dayer, the beach party clubs are the place to do this. Find out more. Not sold on these locations? That's cool, just take a look at our stag do ideas page for all the inspiration you'll need.