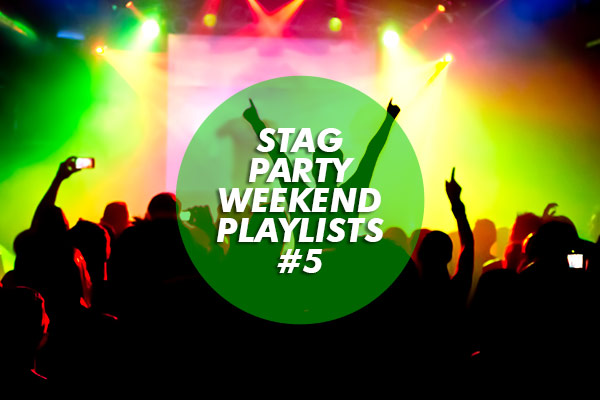 Stag Party Weekend Playlists #5: Doug
It's been a while since I last posted a party playlist, and for that I am truly sorry. We've all been working solidly on our new website though, which you'll have already noticed if you're a regular visitor to the blog. Anyway, on with the show. This week our very own, self-proclaimed Weekend Millionaire, Doug has provided me with a playlist containing some of his favourite Deep House tunes, trust me when I say this one is quite a journey. Doug has also given me a few words about his tunes as well: Frankie Knuckles – Your Love: Frankie's a pioneer of house music so had to kick it off with this classic Chicago house banger!! The Whispers – And The Beat Goes On: Trump card! The Whispers are class and I've always loved a late 70's / early 80's belter. NTFO, Rhadow – Don't Stop: NTFO kicks out some beats at Sankeys pretty often. Catch him at Dynamics Neon Nights (I'll be there next Tuesday) Kraak & Smaak – Let's Go Back (feat. Romanthony) (Solomun Remix): A massive favourite of mine and the crew on the Ibiza terraces! It's a few years old now so I reckon it can be classed as a classic. Adana Twins – Everyday: Saw Adana Twins at our very own Audio in Brighton - sick night. Deep City Groove – Police Brutality (Dale Howard's Brutal Mix): Only discovered this one recently really, huge beat (excessive volume only please). P.s. I still love gangster rap. HNQO – Point of View: HUUUGGEEEE drop (That's all you need – Lee) HNQO – We Do It (feat. BR) (Kolombo Remix): HNQO again, young star from South America and I love the 80's synth you pick up on this bad boy. Ali Love & Kali – Emperor (Maceo Plex Last Disco Remix): Had to include some Maceo Plex this bloke is literally the tits and I could do a playlist on just him easily. This one is one of his most recent tracks and it reminds me of Ibiza 2013. Hot Natured – Different Sides: Thought I'd ease out with this chilled deep house banger - heard it for the first time in Ibiza last year and could not get my hands on it!! It's fresh out on iTunes this week after nearly a year of searching. Some absolute bangers in there Doug, thanks! I think my favourite has to be Deep City Groove's Police Brutality tune. The weather might be starting to take a turn for the worse, but this playlist is more than enough to bring you out of that downward Autumn funk, at least for the weekend! Queue this bad boy up:
Deep House not your thing? See the other Party Playlists we've featured from other staff members here at The Stag Company.