Suit up guide!
Categories: Stag Dating Advice
It's the most important outfit you'll ever wear as a guy, but the thing with a suit is, you can either get it VERY right (cue a very happy wifey and bagging that promotion at work) or you can get it very wrong (cue very UNhappy wifey and same old Monday morning blues)
Let's face it though, suit buying isn't easy. If your last suit buying trip was with your Dad when you got your first 'proper' job aged 18, there's a lot to think about when the event is fifty times bigger and we live in the age of the smart phone, so just where do you begin? There's the material, the colour, the fit. Fear not though, because here at The Stag Company, we consider ourselves the helpful types, so we've put together our ultimate guide to navigating the world of tux buying…it's time to suit up and look sharp!
Cloth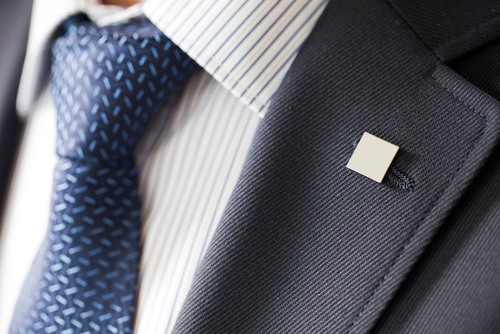 First things first-the fabric. Chances are this isn't something you'd think of as high on the suit priority list, but let us tell you, it absolutely is. This is probably the most important aspect (alongside the actual fit), as suits have been made in various different materials throughout the years. You may want to consider what temperature it will be where you are wearing a suit. Light weight suits are normally 8-9 oz, medium are 10-12 and heavy are normally 12-16. From avoiding sweat patches to battling with itchy trousers, there are many considerations with the various cloths.
Cotton
Cotton is a very popular material which is mainly chosen for the summer period. It's worth mentioning though it does sometimes get a bad rap for its tendency to crease. If you're getting married in spring, summer or autumn, cotton is ideal.
Wool
Highly versatile, wool can work well during the day and at night. It's durable as it does well at avoiding wrinkles, though it can get a little stuffy so if you're after a summer wedding, it might not be the one for you.
Cashmere
A wool taken from cashmere goats, this material offers a much more luxurious shine. It's not suited to the workplace, but great for looking classy meaning it's wedding day gold.
Worsted
This is another form of wool which is known for its ability to 'take a hit'. Perhaps lesser known than other types of wool, it's a great choice for resilience.
Linen
Ridiculously lightweight and often worn in hot countries where a suit is required for work, linen is an option for a beach wedding. We aren't big fans of linen suits usually, mainly due to how easily they get creased, as well as how easily they stain. If you do buy one, get ready to place the drycleaner on speed-dial.
Polyester
Polyester suits tend to wrinkle easily, though nowhere near as bad as linen suits. Often seen as cheap looking, these suits also don't breathe well, making them an unpopular choice for a special occasion.
Velvet
Think 1920's style, with the Great Gatsby being the motivation behind a surge in sales of velvet suits. Looking more like an armchair at your grans house, if you wear too much velvet it can fall flat on the ground, but it will certainly catch the eye. The expensive form is made from cotton, while the cheap form is from Rayon. One thing's for sure though, you should definitely stick to rich dark colours.
Silk
Think luxury when considering a silk suit. Silk is brilliant at regulating your temperature as it holds onto heat when it's cold and removes excess heat when it's a bit too warm. Perfect if you're a nervous groom and put comfort above all else!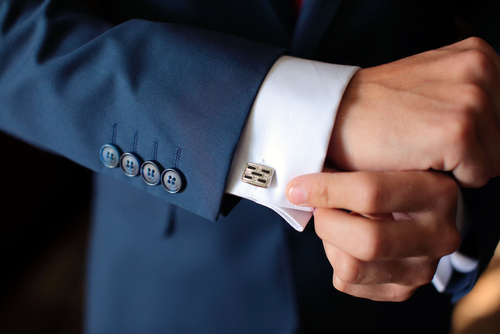 Buttons and choosing a colour-
Don't you dare pick up that three buttoned suit, put it right back down! Two is the most conventional number, while some modern trendy suits have one button, but we would normally recommend a two buttoned suit.
Colour wise, it really depends on what other suits you own and what your budget looks like. If you're only buying one and you want it to be pertinent for multiple uses, you might want to rule out anything too swanky.
As a general rule, each wardrobe should contain a navy blue and charcoal one, while many people are drawn to the Cambridge grey. There are so many shades of grey and what you opt for might come down partially to a personal preference, although the Cambridge grey is a little less formal than the charcoal grey and the navy blue.
No big surprise, most people have a black suit, or ten in their wardrobe, however there are negatives, such as the lack of versatility, as it can contrast with anything else you wear. Suited to funerals and other professional events, it is a useful piece of attire, but venturing out can help you to find the suit you will truly love.
You don't see people wearing dark brown suits often, but these can look really nice. Avoid if it's for work as they don't appear quite as professional as some of the aforementioned. If you're after something a bit different you could try white and khaki, which will help to offer something a 'bit different' although I would recommend approaching with caution. It might be one to try if you consider yourself a stylish or quirky type, otherwise it's probably best to play things a little safer.
PS-It sounds obvious, but don't forget, if the suit is for your wedding it's worth consulting your colour scheme and your other half before buying!
Accessories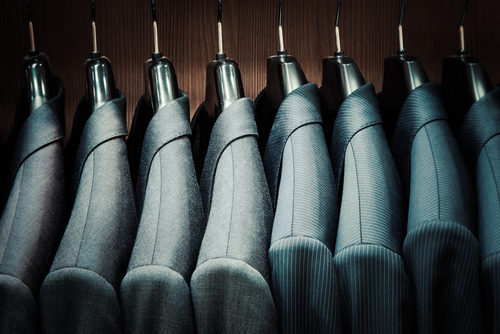 Pocket squares
You can have some great fun with pocket squares, but one of the crucial elements here is to ensure the colour is different to the colour of your tie. Use this opportunity to show off your flamboyance and pick something that matches the 'peacock effect'.
Tie the tie
When it comes to tieing your tie, just stick with a simple Windsor knot. Some people are spotted trying all different forms of knots, but this isn't scouts, just stick to the tried and tested.
When you have it wrapped around you, the end should either reach your waistband of your trousers or be slightly shorter, but it should never go over.
The right tie width
When picking out a tie, people don't always notice but the difference in width can be dramatic. Resembling something closer to a clown, an overly wide tie just looks tacky. Make sure the width matches perfectly with the lapel. A thin lapel is becoming a common trend, while wider options are seen as a more traditional style. You can therefore decide based on the reason you are suiting up and the audience you will be in.
Tie colour
When you go to pick the colour of your tie, just stick to one very important rule, it has to be darker than the colour of your shirt. If you do decide to wear an exuberant design, make sure you have a relatively plain shirt underneath.
Sock length
Make sure to wear some long socks. You don't want these to be overly visible, but when you sit down, the trousers can sometimes ride up the leg a bit and you don't want your legs to be visible, this just looks a bit weird. I'd recommend being a bit creative with your sock colour, another sneaky opportunity to try the peacock effect.
Belt colour
Try to make the belt colour match your shoes. This is so often overlooked, but can really add the finishing touch to the look. You also don't want it to be too big, a fairly thin belt is perfect.
Fit
The right fit can make or break a suit and can be the difference between looking smart or sloppy. There's nothing worse than an ill-fitting or uncomfortable number, so this is a crucial thing to get right.
Chest space
When the suit is buttoned up, you should be able to slide your hand under, touching your chest with a comfortable fit. If it is completely loose then it is too big, while if you can't get your hand in there then you need a size up.
Check those shoulders
One of the biggest giveaways of whether the suit actually fits you is based on the shoulder fit. It is incredibly hard to adjust the shoulders, so make sure you get this bit right. It should lie flat along your shoulders, while you also need to look out for any wrinkles whether on the top or on your upper arm. You need the seam along your shoulder to match the length-a huge amount of people have been caught out with suit shoulders stretching out way beyond where your body limitations end.
How does the butt look?
There is no point spending a huge amount of time and money on a great jacket and then have poor fitting trousers to partner. It should slide straight down (within reason), however you should be able to spot whether it fits you by whether there are many wrinkles, either through it being a tight pull on your behind or whether it hangs loose, making a sagging shape.
Button line up
When you are wearing the suit standing, the top button (based on a two button suit, if you are wearing a three buttoned suit then this would be the middle one), should be just above your navel.
Cuff exposure
Providing you have bought a suit that fits perfectly, your next challenge is wearing a shirt that also fits perfectly. You want the end of the sleeve cuffs to be showing around half an inch out of your jacket sleeve, giving you an opportunity to show off those cufflinks.
Jacket length
There are a few theories and methods to work out whether the suit jacket is a good fit, however there are drawbacks to all of these. One common method is the 'cupped finger' trick, where you should be able to cup your fingers around the bottom of your jacket with your arms flat at your side. However if you have particularly long or short arms, this might not be a winning formula.
A popular saying is that 'a suit jacket is like a good lawyer, it should cover your ass'. From the front it should be hitting the bottom of your flies.
Trouser length
If the trousers are dragging along the ground, it will look like you've borrowed the suit from your dad, while pick one too short and you look like you're desperately going for the hipster look. The perfect trouser length should be so they sit one inch over your shoes.
There is a trend towards having shorter trousers, however exercise caution with this one-it's not always appropriate and people might not realise you've done it on purpose!
The tie bar trick
Just like with cufflinks, the tie bar is a great accessory, however a common question is where to wear this on the tie. You should aim to position it between the third and fourth button down on your shirt. Make sure it doesn't cover the entire width of the tie.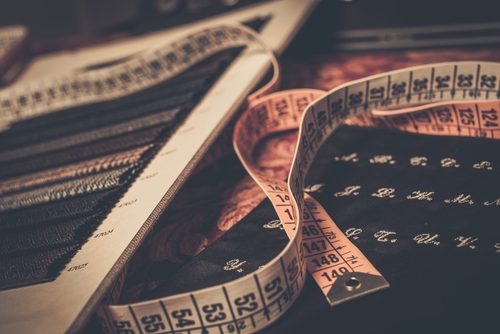 So there you have it…you've got your fabric of choice, you've picked a colour that suits you (ahem…excuse the pun) so now we'll leave you with our top tips…
Which buttons to do up?
You NEVER do up the bottom button, regardless of whether it is a two or three button suit. If you have a two button suit, do up the top button and make sure it is unbuttoned when you are sitting down. If you are wearing a three button suit, try to stick to just the middle button, however you can do the top button if you wish.
Waistcoat Buttons
Gone the extra mile and put on a waist coat? Nice! Just remember the same rules of suits apply, always keep the bottom button undone, a common mistake we witness.
V neck underneath
Probably our greatest ever find was when we worked out you can wipe out sweat patches on a shirt by wearing a V-neck t-shirt underneath. Why not just a normal t-shirt we hear you ask? The answer is simple-because if you decide to undo a few buttons, people can see the top underneath. If you do like the top few buttons undone, you will need to find a low hanging v-neck.
The right watch
If you are sprucing yourself up and looking dapper, the last thing you need is that digital watch you've had since you were 16. You don't need to wear a watch, but if you do, make sure it's a good one.
Check out our suit up guide in its full glory below-