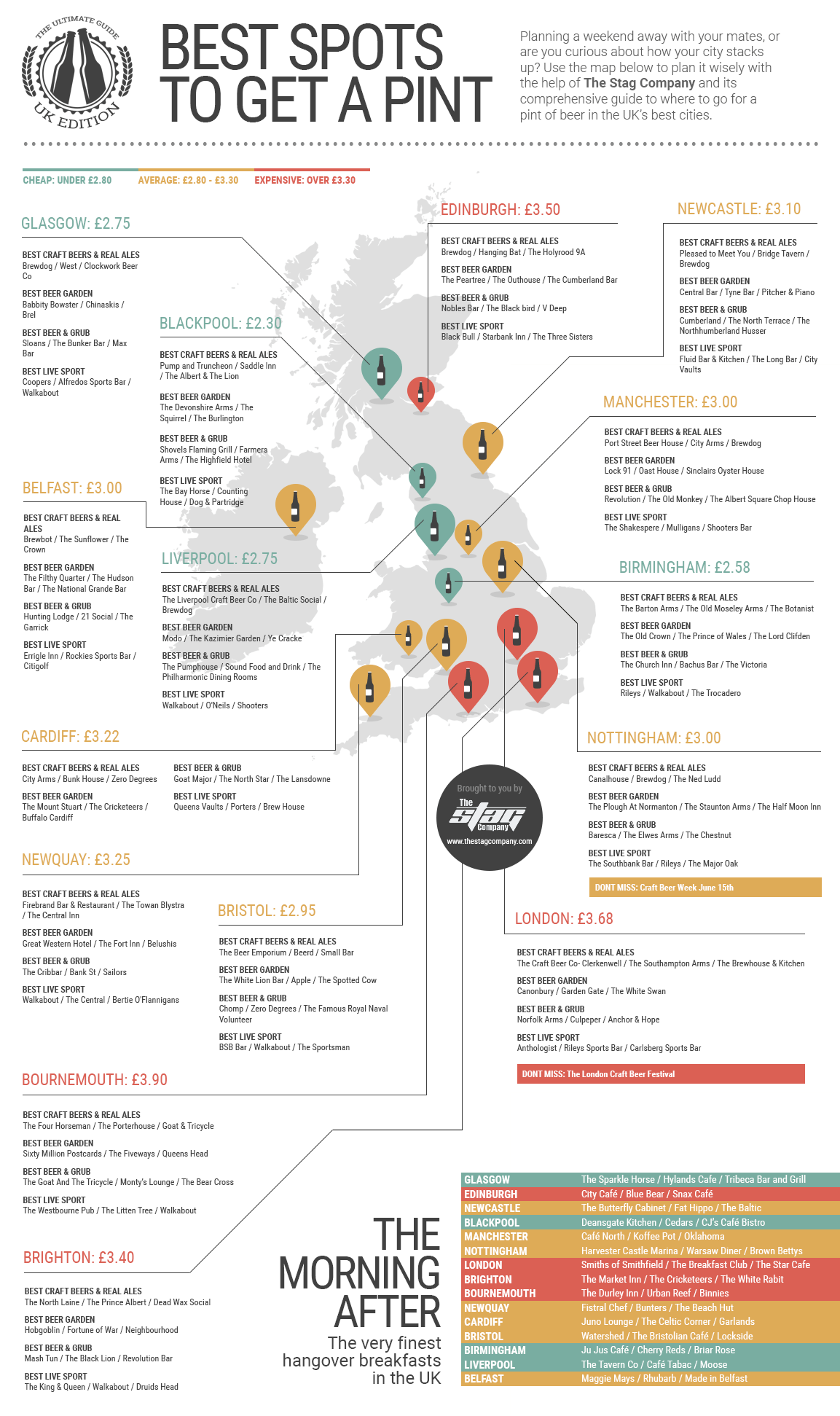 The price of a pint in the UK
Categories: Stag Weekend News
It's National Beer Day and here at The Stag Company, we know that beer is an important part of the stag party weekend away. Benjamin Franklin was right when he said that "Beer is proof that God loves us and wants us to be happy". We also want to make you happy and because we like to make things easier for you and the rest of the group, we thought we would help you out a bit so we came up with a beer map. The main idea of this is to show you where you can find the cheapest pint in the country. It's ok, you can thank us later!
This awesome beer map will give you some of the most important info you'll need for you weekend away and that is just how much you'll be spending on average in your chosen destination.
Cheapest beer cities
Our findings suggested that Blackpool, Birmingham, Glasgow and Liverpool have the cheapest beer in the country, where prices are under £2.80. That's not bad at all, we like the sound of that!
Average beer price
Newcastle, Belfast, Manchester, Cardiff, Newquay, Bristol and Nottingham are the inbetweeners, with prices averaging between £2.80 to £3.30. Still a good deal if you ask us, especially as Newcastle is in our most popular destinations of the year.
The higher end
Edinburgh, Bournemouth, Brighton and London all taught us that beer is a bit pricey there. In fact, these are the places in the UK where beer is the most expensive, costing over £3.30. Of course this also matters what pub you go to, but majority fall into our findings. Should this stop you from going there? We don't think so. Bournemouth is a top UK stag party destination for 2016.
But wait, there's more…
The world has been blessed by hundreds of different types of beers, and whatever you like we understand and we don't judge. This is why we wanted to give you a bit more information on where you and the rest of the group can find your favorite craft beers in your chosen stag do location. You'll find three different pubs for each city, all carefully selected by us to guide you to the right place for your taste buds. If you want to know the best place for a few pints and a decent meal, we've covered that for you also. And because a beer goes well with a footie match, we've got some insight for you on the best sports bars in your chose destination.
So raise your glasses and cheers to a memorable stag do!