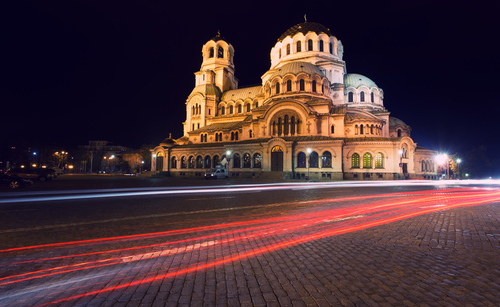 The Stag Company Spotlight on Bulgaria
Categories: Best Stag Do Locations Europe & The UK
As a company we offer stag weekends away to several different cities, so whenever we're asked which one is our favourite well… it's always a hard question. Every different country has its own charm and asking us to pick one would be like telling us we could only pick one favourite Victoria Secret model which is impossible, because they are all beautiful in their own way! After much deliberation we decided to do a selection of spotlight articles showcasing different destinations instead, and in these articles we'll be giving you tips on the best things to do in that country. So without further ado, let's start off with an often overlooked country Bulgaria!
Quad Biking
Without a shadow of doubt, Sofia has one of the best quad biking courses we've ever driven on. It's got plenty of variation to keep the course interesting and we find that driving in a new country (even if it's on a quad biking course) really adds to the fun. So grab your helmet (steady on! Not that one!) and get ready to race against your mates through mud, dirt and across rough terrain.
Pub Crawl
A guided bar crawl is a must if you plan to hit the town for a night out during your Sofia stag do. Making this guided tour a good option for stags who enjoy adventuring off the beaten track and discovering secret pubs and bars packed with friendly locals; as well as other savvy, chilled out tourists who appreciate something different and unique. Plus these bar crawls normally include a few drinks too, so you won't be left feeling thirsty.
Mineral Springs
Kind of far to go for a drink of water we know, but the city is famous for its many natural mineral springs. So if you and your mates are sightseeing (read: - stumbling around hungover) in the city then head over to the city centre near St. Joseph and St. Nedelya Orthodox Church where you'll find locals and tourists filling up their water bottles alike. (If you want to know more then click here!)
Shooting
Oh yeah, the gun laws are more relaxed out there so if you've ever fancied trying your hand at being a marksmen then this is the place to do it. There are plenty of different firearms to choose from, AK47, Glock, Heckler & Koch USP and much more. So go sober (seriously, they won't let you shoot otherwise) and be prepared to feel the adrenaline run through your veins.
Skiing
During the winter months Bulgaria is a great place to go skiing. Admittedly you'll have to travel from Sofia to somewhere like Bansko (which is about a 2 hour drive) but we promise you - it's worth it. Also, if there's a whole bunch of lads going then why not all pitch in for a chalet? It beats staying in a hostel (not that there's really anything wrong with that) but a nice log chalet is only going to add to your experience and make the stag do that much more memorable. Unfortunately we don't offer chalets ourselves but we recommending checking our these guys - https://www.chaletline.co.uk/bansko.