Father Of The Bride Speech
Categories: Wedding Advice For Men
The pressure isn't just on the best man to come out with an unbelievably funny speech, the father of the bride also has a huge amount of pressure. In fact, some see it as more stressful, as the father of the bride is traditionally the first person to give a speech. It is now your job to create a mind blowing speech, rather than a warm-up job for the other talkers. There are a number of rules to getting this speech spot on, such as removing the cheesy jokes and not going on for too long. Have a read of our guidelines below in order to perform and write the perfect father of the bride speech.

Structure
Getting the structure of the speech right is important, to ensure it runs smoothly and for all the jokes to connect in the right way. Below is our general recommendation of how you should shape it, but feel free to alter yours to make sure it sounds right.
Introduction
First you need to gather everyone's attention. Get the room to become completely silent, so you can begin your talk. For this reason, I strongly recommend not directly opening with a joke, as half the audience won't hear it, as they are all turning around and adjusting their seats.
Introduce yourself, for anyone who doesn't know who you are and thank everyone for attending.
The Unreachables
While thanking everyone for coming, it is also important to use this moment to highlight the people who couldn't make it and pass on any messages they have written for the couple.
Your Daughter
You know your daughter better than almost anyone else in the world, so you can make a judgement on how she will respond to humour and how far to go with the humour. As the best man will be ridiculing the groom, this is a great opportunity to bring up some embarrassing stories of your daughter as she was growing up, highlighting how far she has come, or hasn't.
Beyond all the jokes, you really do want to highlight how much of a proud father you are.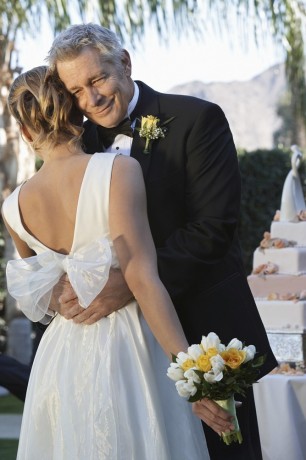 The New Son-In-Law
It is important to let the guy know he is being completely welcomed to the family and how proud you are to do so. Try to think of some stories of how you met or the times since you've known him. This will be down to your previous experience with him, but many people either go for a funny story or for a deeply moving story of how you realised he was the one for your daughter.
Of course, don't completely leave it to the best man, try and sneak in a few jokes at his expense, it's only right!
The Tear Jerker
You've had your fun at both parties expense, now it is time to tug on their heartstrings. Dig deep and say something that even the most dry eye in the house will find itself blaming the onion peeling in the kitchen. You can also bring up (providing you're still happily married) that you hope they have a relationship as happy as you and her mother has had.
Toast
You've done all the hard work, you can breath a sigh of relief, as now you have to raise a glass and toast the happy couple. Get everyone on their feet to lift a glass and then chug your drink down. The party starts now for you!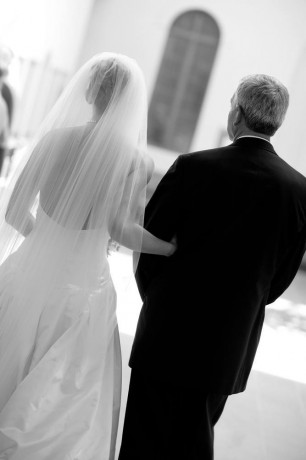 Timing
You should start off by writing the speech way too long. I normally recommend a speech around five minutes long, however I also recommend initially writing a twenty minute speech. The reason for this is that you will cut out the jokes that don't cut the mustard. Once you practice in front of someone (try to make it someone who isn't attending the wedding), they will be able to point out the areas that could be improved, what to delete or anything that could be added or extended.
Don't Drink
I know you will want to have a drink beforehand in order to settle your nerves, but you will be a lot more grateful if you don't. Alcohol affects your short term memory and could leave you blurring lines you had inch perfect only a week before. Hold on till you've had your speech, that way the toasting drink will taste so much sweeter!
Practice
This might sound like an obvious point, but you should practice your speech repeatedly until you have it completely memorised. I have been to a number of weddings whether the father wrote the speech the night before or planned on relying completely on cards and it just felt awkward the whole way through. If you practice the speech so you don't have to rely on the cards, the punchlines and emotional sections will sound so much more sincere and clear.
Cards
OK, I 100% recommend learning the speech off by heart, but it can still help to have cards in front of you, highlighting each section title, so you know what comes next, in-case you lose your place or suffer from nerves.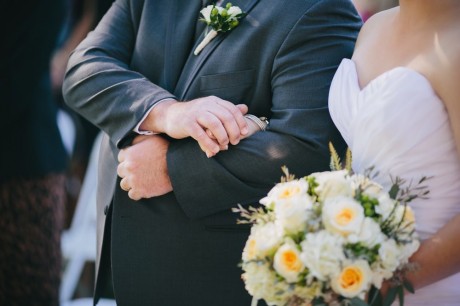 Slow Down
One of the biggest mistakes people make when they are nervous is to talk way too quickly. This will mean you become unclear and not everyone will catch what you say. This could damage the effect the talk has, so take a deep breath every now and then and focus on each sentence individually, rather than rushing to the end.
Holding An Apple
This was a bizarre presentation skill I learnt while at The Stag Company, which is to pretend you are holding an apple in your hand while presenting. This combats the issue many guys face when talking in front of an audience, which is what to do with your hands. If your hands are in your pockets, you look uninterested, while keeping them crossed makes you look cross. I used to try to keep mine to the side, but this just made me look nervous. What a large number of presenters do is act animated with their hands, using them to help explain the stories. The idea of holding an apple in one hand offers a respectable standing position, as long as you move your hand around, rather than standing their the entire time with you hand held aloft.