The Ultimate Mistake...

Glasgow airport security went into action mode, as a stags bag was flagged as potentially holding a dangerous weapon. The stag, completely unaware of the items inside his bag, was going through the X-rays when the alarms went off and the staff began searching through the bag.

Inside was a fake bomb, placed inside by his mates, however their plan backfired as he was then taken into custody and will have to appear in court.

This extreme prank ended any hopes of a stag do in Berlin, as passers by entered panic mode, with many onlookers said to be extremely nervous about the severity of the situation.

The name of the groom-to-be has not been mentioned so far, which is unsurprising as I would certainly want to keep that quiet. As far as we know, the 26 year old Glaswegian spent his stag in Glasgow rather than in his planned German holiday break, however we will try to update on this story as soon as we hear more.

Original Prankster

So we ask, what are the biggest stitch-ups you've heard of? We definitely don't recommend hiding a bomb in your bag, but if you want some further inspiration, have a read of our stag do pranks. If you've tricked your mate, let us know in the comments below, we'd love to hear from you!


The team here at The Stag Company have received an increase in demand for 'kidnap stag dos', a highly unusual package where the groom is picked up in a van, blindfolded and driven to a set location where they play a number of tricks on him. We don't currently offer a relevant package, sighting a number of legal obligations and restrictions, however it certainly seems the best man is getting more cruel by the year.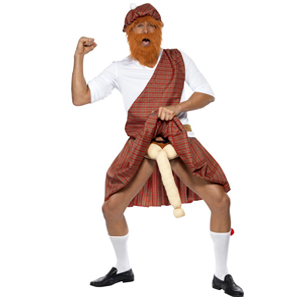 Fancy Dress

If you are looking for something a little bit calmer for your trip and don't fancy spending the night behind bars, you could just opt for a fancy dress costume. Skip the cliché named t-shirts, avoid the superman full suits and go for something a little bit different, such as a flashing highlander or a Mr Blobby costume. You can also take a look through our guide on fancy dress options.

Chainsaw Prank

The most bizarre aspect is that this wasn't even the most crazy trick we've heard today! The winner has to be this Hill-Billy-esque fake chainsaw-massacre scenario, where a guy was woken up with a blunt chainsaw to his throat. Of course, he had no idea the blades weren't attached. You can't help but laugh, but I would hate to be in this scenario, even as just a prank! Hats off to the evil guy who thought of it, and of course, have a watch below for your own enjoyment: