Stag dos are a rite of passage when a man is transformed from a single bachelor into a respectable married man. It's pretty obvious, but we're gonna say it anyway, it's a big deal, a really big deal. It's an event that can't pass by quietly, it's an event that NEEDS to be celebrated in a way that will forever live on as legendary in the mind of every lad who attends.
But how to make your stag legendary? Well, the essential recipe for stag legend status just requires a few key ingredients. Doing things that are either hilarious, unforgettable or incredibly stupid – and any combination of those is just more of a guaranteed hit.
It's a time-tested recipe, one that is far more important to human development than things like inventing the wheel or creating fire. And as well as an array of legendary nights out and activities, it's about the dares. So we've put our heads together to put together the ultimate list of stag do dares, that (without fail) will make your stag do. You can either pick a few that stick out from our lists below, or you can use them as inspiration for your own mental dares. And it goes without saying, the more mental – the better! And if you're really open to do anything on a stag, well check out our ultimate stag do dare.
One thing does have to be kept in mind though lads. Some of these dares are a little bit ridiculous, some even border into insanely idiotic and dangerous. So if at any point during this list of dares you come across one that you're not comfortable doing, well... feel free to say no. There is just one tiny issue with this... namely that you'll have to complete a stag do forfeit.



Are you reading through these dares and thinking, that's too easy. Do you want a stag do dare which is both unforgettable, hilarious and more than a little stupid? One that will leave the groom-to-be quivering in his boots because he doesn't know what's coming next?
Well, it's actually easier than you might suspect. And there's beauty in that simplicity.
Basically, you make a little sign and strap it to the groom's shirt, and he has to wear it for the stag. This little sign reads as follows: GOT A DARE FOR THE STAG? CALL THIS NUMBER – and insert the number of a phone the Best Man has a hold of. And whenever that phone vibrates and a text comes through? The stag's gotta do it. Members of the public can get involved, members of the party can put up their best ideas. And all in the name of humiliating the groom-to-be, and really... isn't that what it's all about?



Now we realise that printing out this entire blog might be a bit of a challenge, and with printer ink as expensive as it is you might be broke before you ever go on the stag. So because we're so conscientious about printer ink wastage we've created a cool looking stag do dare card for you to print out and distribute to the lads.
All you've gotta do is open and print out the above image, or click on this link to save it as a PDF to view on your iPhone or other fancy high tech device.
Make sure to let us know if you get 29/29!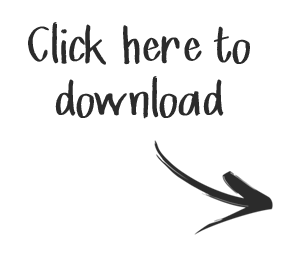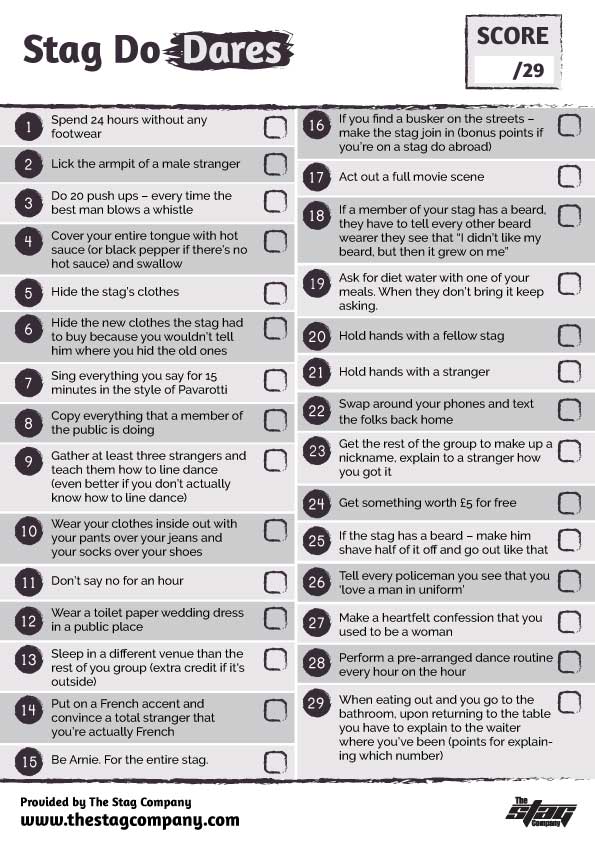 How Far Is Too Far?
We all love a good prank, but where do you draw the line? Will you leave your stag in stitches, or literally leave them in stitches? Will you having him cracking up or crack up your friendship? Enough of the silly quotes, the point I want to make is we can easily go to far with a stag do dare, so you need to set some limits and work out the grooms boundaries.
A stag do kidnap is hilarious for some who love banter, but if they're a self conscious individual who is very shy, you may actually give them a panic attack. This is why it is important to speak to the groom beforehand. You don't have to reveal your plans or give away what activities you're going to try, you just need to see what the groom will find funny or what will leave him fuming all night. Remember, it might be funny for the group, but this is his big send off, the focus should be on him having the greatest night of his life (or ultimate weekend), so have a few dares, but don't take the biscuit.
Where Do I Do The Dares?
It's one thing planning out some evil challenges for the groom, it's another thing working out when is appropriate to do them. This will largely depend on the nature of the dare.
We've written up some great dares that can be done in a pub or a bar, so you could try them on the night out. However, make sure to do them relatively early in the night, as once it gets too late, nobody will remember them or people might forget to push the groom to complete the dare. The first two bars on a crawl are normally the best options.
On the other hand, if you're drinking the whole way through the day, then you have pretty much free reign to pick, but again, don't opt for too late, as the groom might have been given too many shots by the stag party to complete them.
Enjoy, and good luck you legends!