Where to Find the Cheapest Pint in Europe on Your Stag Do
If you and the lads are in the midst of planning an epic stag weekend for the groom-to-be but you're unsure on which location to pick, then this list may be able to help. In a recent poll conducted by The Stag Company, 75% of respondents answered that the price of beer would influence their choice of location for a stag do. In response to this, we've devised a list of the beer prices across popular stag do destinations in Europe.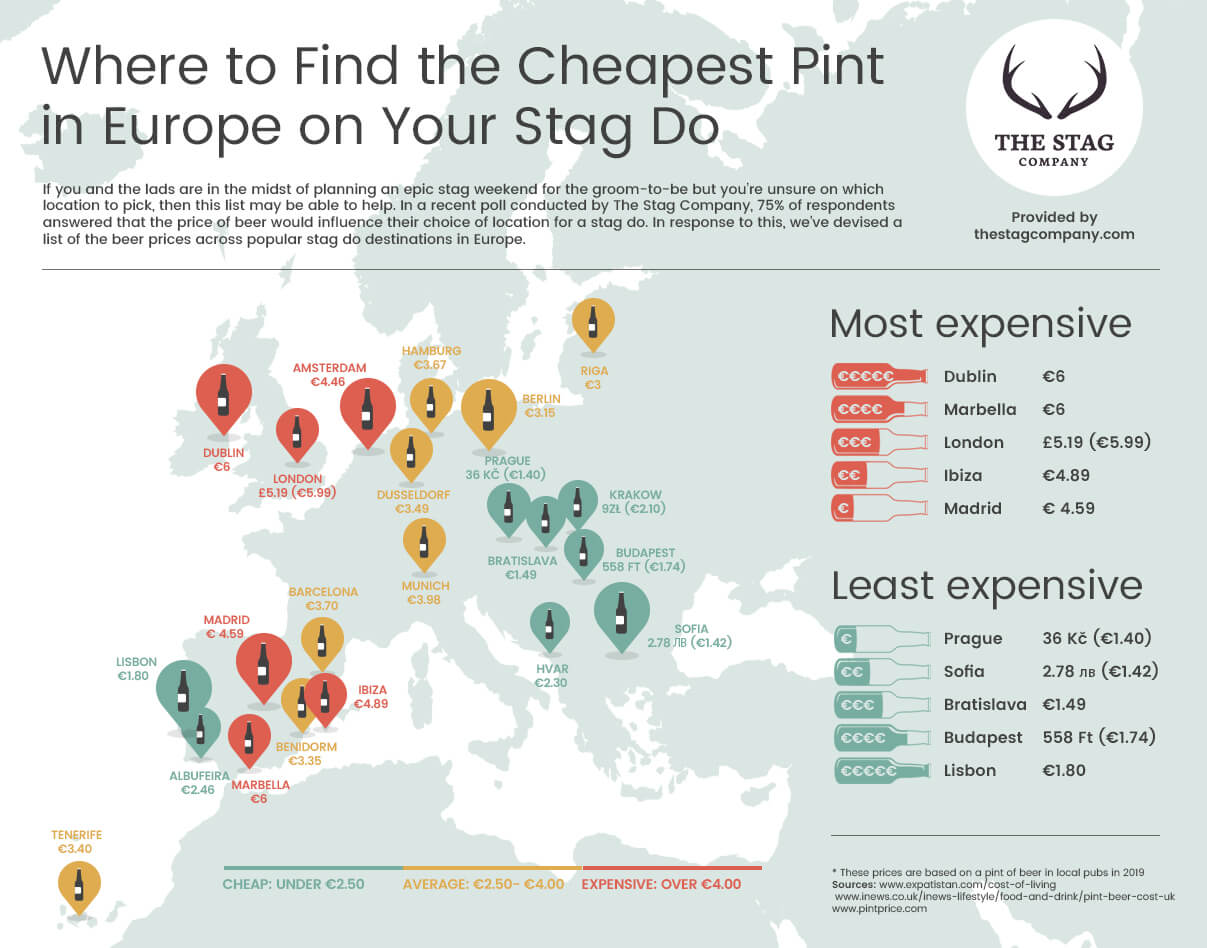 Here is a list of beer prices in Europe ranked from cheapest to most expensive…
Prague – 36 K (€1.40)
Sofia – 2.78 (€1.42)
Bratislava – €1.49
Budapest – 558 Ft (€1.74)
Lisbon – €1.80
Krakow – 9z (€2.10)
Hvar – €2.30
Albufeira – €2.46
Riga – €3
Berlin – €3.15
Benidorm – €3.35
Tenerife – €3.40
Dusseldorf – 3.49
Hamburg – €3.67
Barcelona – €3.70
Munich – €3.98
Amsterdam – €4.46
Madrid –€ 4.59
Ibiza – €4.89
London - £5.19 (€5.99)
Marbella – €6
Dublin – €6
*These prices are based on a pint of beer in local pubs.
Quality Of Beer
It's fine and all looking up the cheapest pint, because we all want a bargain, but none of us want to be sipping on something that tastes like a dirty sock.
This is why you should equally consider whether the price matches with quality. Here is where Prague wins by a landslide, as it doesn't just offer a good price, but arguably the best beer in Europe.
A large number of illustrious beers come from the Czech Republic, including Staropramen, Pilsner, Budvar and Kozel but to name a few. They also have a number of micro breweries where you can enjoy a locally made beer, as well as boat parties with local tipples (and nipples).
Pick Your Bar Carefully
If you do want a cheap pint, you may want to avoid the touristy areas, notorious for overcharging people when you can take a short walk down the road for a pint half the price.
We list a number of venues that are known to be stag-friendly, meaning you don't have to worry about being turned away at the door for being in a big group of lads.
We also have a number of drink deals with these venues, so don't hesitate to enquire about the best deals we can offer.
Do your research beforehand on the best special offers beforehand to really make the most of your trip. You may also want to time your visits for when some special offers are on, they may have drink deals if you arrive early enough at less-popular timings. Plus, who can say no to some early beers to really get the night started.
Try A Local
If you opt for what you know back home, you may end up paying a premium, even if back home we consider it a cheap pint. Instead, ask the bartender what is a good priced pint and they will most commonly tell you about a local beer which is significantly cheaper than the big names.
From our experience, most venues across Europe will have a local beer which is between 20-50% cheaper than the well-known imports.
Sources: